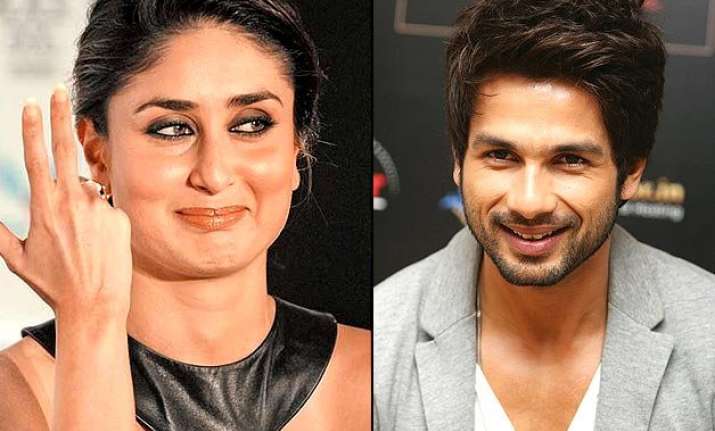 Guess who is the happiest person on earth with the news of 'Shahid Kapoor getting married'?
New Delhi:
Shahid Kapoor is getting married - ok! So what's the issue and why such hue and cry about it? Well, may be because the news is sudden and the lady of honour is not someone from the industry.
The actor's would-be-better-half is still studying and might not be even 23 years of age. Shahid on the other hand has just turned 34 and has again proven that the age is just a number, in the industry at least.
However, though many hearts might have been broken and many would be waiting for the official confirmation, we tell you who is that single most person on the planet happiest among all!
Shahid's former lady love, Kareena Kapoor Khan married Saif Ali Khan who is also 10 years elder to her. And while the lady had also faced a lot of flak from the world for marrying a man who is this elder to her, the news would come as a treat to Kareena Kapoor Khan.
The same world who was taunting the actress for her decision is here again to spill menace in Shahid Kapoor's life and more because of his marriage decision. In fact, so much is the coincidence that the two in each couple (Shahid-Mira and Saif-Kareena) share more or less a similar age difference.
The two stars are currently working together for Abhishek Chaubey's 'Udta Punjab.' And though no such confirmation has come official from the side of Shahid, the speculations seem pretty much valid.
Mira Rajput, the bride-to-be has done her schooling from Delhi's Vasant Valley School and has also remained intern at the United Nations. The shy and kempt girl turned the first choice of Shahid's parents who met her at a religious and spiritual place - Satsang Beas.
Since then, the bell in the hearts of the two rang and they started meeting each other often. It has also been said that Shahid even paid a visit to the girl and her family off-lately to fix the entire marriage plan.
Well, we say let the world be jealous and happy simultaneously!