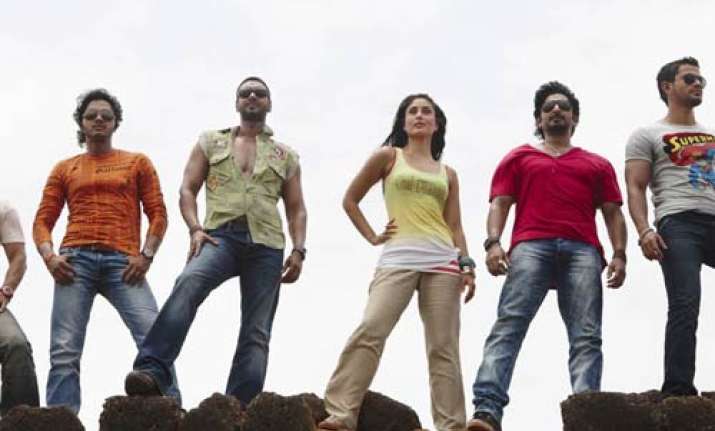 Lead actors of Golmaal 3 Ajay Devgn and Kareena Kapoor refused to turn up for the shoot of a promotional song in their film, causing the producer Ashtavinayak to suffer a loss of Rs 35 lakh, reports Mumbai Mirror.
The entire set that had been constructed specially for this song at Yash Raj Studios (Andheri) had to be dismantled because the actors chose not to come. Says a source, "The set cost Rs 35 lakh. Ajay and Kareena's decision not to shoot for the extra song did not go down well with the producers, but they could do very little about it."
Explaining why Ajay and Kareena did not shoot for the song, our source adds, "They did not like Pritam's composition Desi Kali."
Apparently, Pritam, who has composed the entire background score of the film, was the obvious choice for Desi Kali as well. Moreover, Bhushan Kumar wanted Pritam only."
The source revealed that the two actors disliked the song and felt that it wouldn't give any impetus to the film. But guess what? Yesterday, both Ajay and Kareena shot for an episode of Kaun Banega Crorepati 4. We suppose that suited their tastes better?
Pritam confirmed that Ajay and Kareena didn't shoot for his song, and said, "I don't know why they didn't shoot."
When contacted, Bhushan Kumar said, "Yes, a set had been put up at Yash Raj Studios. But Ajay was busy shooting for Priyadarshan's film Tez. In fact, I called up Priyadarshan and asked him for Ajay's availability. But we couldn't pull it off."
When Mumbai Mirror told Kumar that Ajay and Kareena might not have turned up because they didn't like Pritam's composition Desi Kali, Kumar said, "See, I am telling you whatever I was told by Ashtavinayak. Besides, I didn't incur a loss as I am not the producer, Ashtavinayak is."