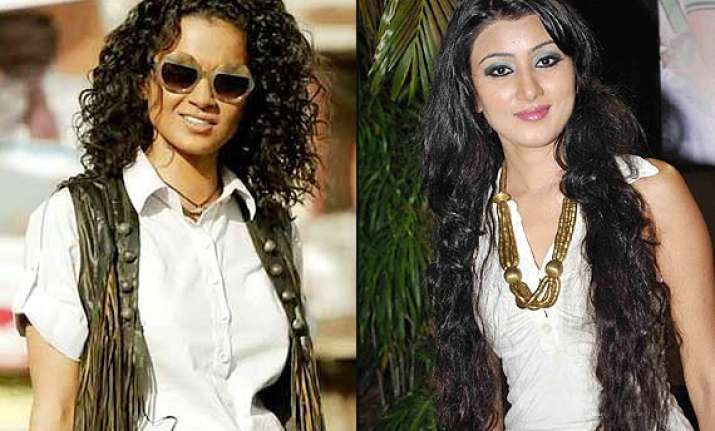 Kangana Ranaut, who is still raving the success of her latest 'Queen,' has once again geared up for yet another interesting character in her upcoming, 'Revolver Rani.' But just before the film could take a high fly with its promotion tactics, a controversy has got added to the news around it.
The buzz is that TV actress Nikunj Mailk, who is also playing a prominent character in the film has accused Kangana of chopping her scenes out of the film. Nikunj is a popular TV personality and has done shows like 'Geet…,' 'Rahul Dulhaniya le jayga' and the recent to be liked was
Anil Kapoor
's '24.'
While Nikunj is sure that she was never made to shoot a few solo scenes in the film that were initially planned with her, she has defended the director, Sai Kabir by saying that "it's his directorial debut." But when asked about Kangana, she indirectly agreed to the name.
"It could be her. I don't know for sure as I can only suspect. I have many group scenes with her, but a few solo ones that were planned were never shot," said Nikunj.
The actress has refused to promote 'Revolver Rani' on her part and has said that she won't even watch the film. While Kangana decline to generate any statement around the issue, the director said, "Nikunj's done a good job, but she doesn't understand film-making. She's just panicking. Kangana isn't part of the edit process, and has nothing to do with it. Revolver Rani is an ensemble with 20 actors and everyone's roles have been justified."
We wonder is there any truth in Nikunj's allegations, but one thing is for sure that Kangana and 'Revolver Rani' are getting their share of popularity.