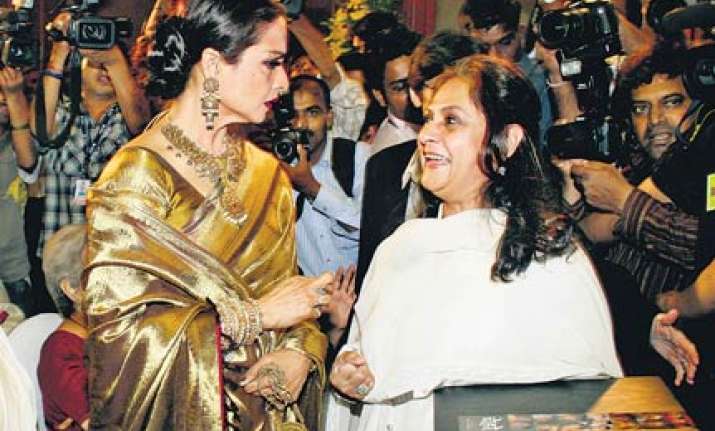 The occasion : Launch of celebrity photographer Gautama Rajadhyaksh's Marathi coffee table book  'Chehre'. The cream of Bollywood's yesteryear actresses was present – Hema Malini, Rekha, Padmini Kolhapure, Kajol, et al was present.  
Enters Samajwadi Party MP Jaya Bachchan, who greets Asha Bhosale and others. Jaya did not notice Rekha who came up to her and gave her a hug, as Jaya's eyes widened in surprise. 
Later, while addressing the gathering, Jaya Bachchan mentioned the names of Hema, Asha, even Padmini, but pointedly did not mention Rekha's name. Rekha was sitting besides Asha Bhosale.
The hug caused a flutter in Bollywood circles, reminiscent of the 1981 love triangle film by Yash Chopra - Silsila in which the two alongwith Amitabh Bachchan had worked. That was 30 years ago, and since then the two had never greeted each other. Big B's romance with Rekha has been the staple of Bollywood buzz for decades.In January, 2009 at the Star Screen Awards nite, Jaya and Rekha had come closer backstage and at that time, Jaya had flashed a smile at Rekha. 
At Friday's function, melody queen Lata Mangeshkar described how she loved photography. Mangeshkar said she considered herself to be a good photographer till the time she met ace lensman Gautam Rajadhyksha.
 "I purchased a rolleiflex camera in 1946 and took a lot of pictures. I thought I was good. I don't like to be photographed. But, a few years later, I started getting calls from Gautam saying he wanted to take my pictures. I always ignored that," she said, recalling her first encounters with the celebrity photographer.
Mangeshkar said she was recording for a Bengali song at Salil Chaudhary's studio when Rajadhyksha came and took her pictures. "I feel happy that those photos are still being used at many places. But, initially when I saw the photos, I was very disappointed because they were better than the pictures I had taken. I actually stopped photography after that."
 "He says what he wants to say through his photos," the 81-year-old legendary singer noted.
Shooting didi (Lata) is difficult even though she is easy in front of the camera, Rajadhyksha said. "It's difficult because didi herself is a very good photographer. She is well versed with the nuances of photography."
Rajadhyksha said he never wanted to be a photographer. "I  wanted to be a writer as I was working in an ad agency. My cousin Shobha (columnist Shobha De) told me to do both ..write articles and take pictures. After a while I realised that people wanted only my photos and not articles."
The 60-year-old fashion photographer said the camera brought him closer to people and made him friendly with personalities from all walks of life.
 "Chehre has my individual opinion about the faces I have captured on my camera. It's written with a lot of love. This book is my salute to those whose pictures appear in the book. They gave me a lot apart from posing before my camera."
"I learnt something or the other from each of them which made me improve not only as a photographer but also as a human being. This is an exchange of dialogue and emotions with them through the lens and hence I thought I was appropriate to pen it down in my mother tongue Marathi," he said. Hema Malini described the book as a collection for art lovers, while Kajol said it was a collection of memories.