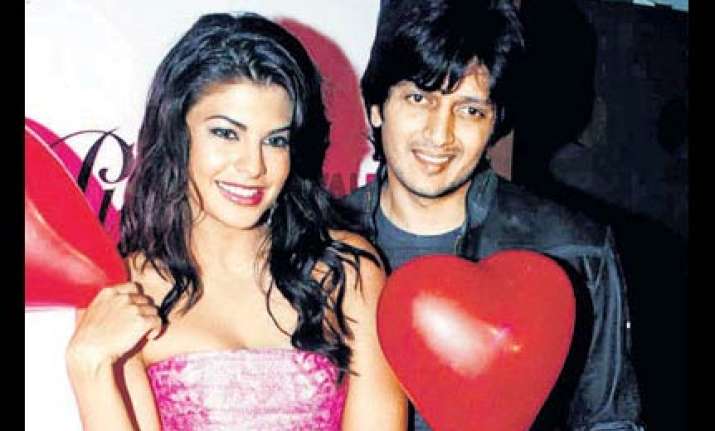 Bollywood is abuzz with rumours of a growing friendship between actor Ritesh Deshmukh, son of Union Minister Vilasrao Deshmukh, and former Miss Sri Lanka Jacqueline Fernandes., says a media report.  
This relationship, the report says, began on the sets of their first film, Tujhe Meri Kasam. Right now, Riteish has more films with Jackie (as he fondly calls her).
Riteish and Jacqueline first came together in Aladdin. They hit it off instantly, and soon became friends. No one thought anything was amiss when she signed (at his recommendation) her second film -- Jaane Kahan Se Aayi Hai -- with him.  
But when the new actress was added to a song Apni Toh Jaise Taise in Riteish's next film,  Housefull, it raised a few doubts. Especially because the film already has three leading ladies -- Deepika Padukone, Lara Dutta and Jiah Khan.  
Sources said, when producer Sajid Nadiadwala and Sajid Khan were searching for an actress for the song, Riteish convinced them to take Jackie.  
Although Nadiadwala wanted a more known actress, he ultimately relented.
Also, the duo have been bonding on Twitter frequently, while any such interaction with girlfriend Genelia is completely missing. But what really got their closeness noticed, was when a recent awards ceremony they sat together in the front row, while Genelia was seated somewhere in the back.  
Riteish says, "I am not bothered by gossip.   I am very fond of Jacqueline as she's a very nice girl. She is just a good friend. If we have been spotted having coffee together Sujoy (Ghosh), and Vishal-Shekhar have been with us. We sat together during the Filmfare awards as we were to walk the red carpet together but because of lack of time that was scrapped."
Riteish denies that he had nothing to do with her entry into Housefull, "According to popular belief, I haven't been recommending Jackie in films. As far as the song in Housefull is concerned, I heard Jackie was doing the song days before it was shot. I didn't know who Sajid (Khan) had signed before that. She was signed for Jaane Kahan Se Aayi Hai during Aladdin. Sujoy (Aladdin's director) and Milap Zhaveri (JKSAH director) are good friends, Milap saw portions of the film, liked her and decided to cast her."
In JKSAH, Ritiesh plays a boy unlucky in love while Jacqueline plays a woman from Venus in search of love and both are searching for a soulmate. Is reality striking in Riteish's real life from reel life? "I don't believe in searching for a soulmate but I do believe in the concept of a soulmate. If it has to happen, it will."