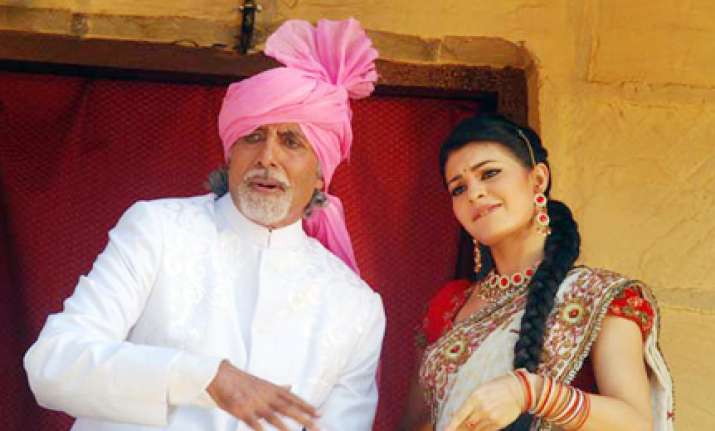 Sri Lankan beauty Jacqueline Fernandez calls her role in 'Aladin' "a fairy-tale come true" but the debutante says that the idea of sharing screen with Bollywood superstar Amitabh Bachchan was "intimidating and scary". 
"I have grown up on Amitabh Bachchan's films and my father is a huge fan. But working with Big B in my very first film? The thought was intimidating, scary and to be honest I was little bit hesitant initially," the model-turned-actress told PTI in an interview. 
However, Jacqueline's fear vanished after meeting Bachchan on the sets. 
"He is a perfect gentleman with an amazing sense of humour. It was my first movie and I was nervous but I became confident after working with Big B. He made everything so easy," she says adding that she sought her father's advice before saying yes to the project. 
"It was not that I needed convincing because I always dreamt of becoming a Bollywood actress but I was scared. I kept asking my father 'Can I do it, it is such a huge investment' and my father was like 'Go for it, you will be a fool to let the opportunity pass by'," Jacqueline says describing her last moment jitters. 
The former Miss Sri Lanka, who also tried her luck for Miss Universe title, came to Mumbai on a modelling assignment two-years-ago. The actress auditioned for the role in 'Aladin', never thinking that she will be selected to play the female lead of "Jasmine" in the fantasy movie opposite Bachchan. 
The film, which releases October 30 is a modern day take on the classic story of the magic lamp. Actor Reitesh Deshmukh plays the title role while Amitabh Bachchan has don the hat of a modern day genie in the movie, which also stars Sanjay Dutt as the evil 'Ring Master'. 
Jacqueline says that despite the language problem the part came easy to her because it is very close to her real life persona. 
"Jasmine is a very normal person. There is nothing strange about her. She is very sweet. She is just like me. On the very first day Sujoy (film's director) told me 'Jacky don't try hard, just be yourself' and I was like 'Okay, that's easy," she says with a smile. 
Ask her about the whole cultural difference and the language problems in shifting base to Mumbai, the actress says that part was easy because she has always been fascinated by Indian culture. 
"Language is not an issue because as an actor you are expected to absorb the culture, the character that you are playing and it was easy for me because I did not take it as a job. I have always been fascinated by India and its culture. Learning about it was not a chore but something that I enjoyed," says Jacqueline. 
The actress was born in Sri Lanka but her family moved to Bahrain because of the civil war in the island nation. 
Jacqueline, who writes for a newspaper in Sri Lanka and is the brand Ambassador for 'Habitat for Humanity' for her country, hopes to visit her native land after the release of 'Aladin'. 
"I am hoping for a positive response for the movie and then I plan to go back and meet our relatives there. We have not visited Sri Lanka for 30 years," she says. 
The actress has no fixed plans about her acting career but says she is loving her time in Bollywood. 
Jacqueline has already bagged another movie with Nikhil Advani, where she will be sharing screen with Reitesh Deshmukh once again. PTI