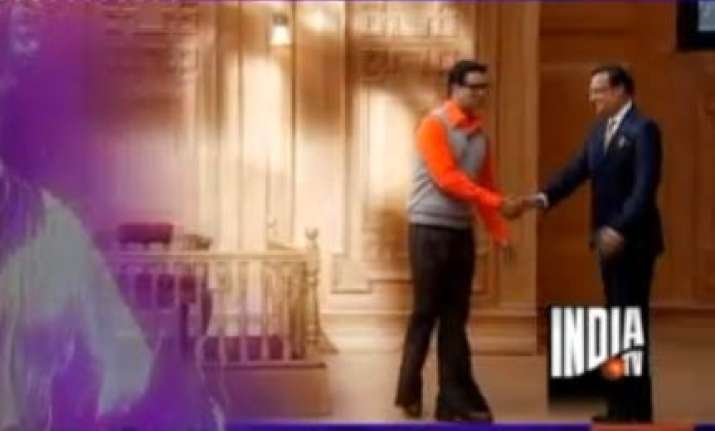 Bollywood star Akshay Kumar admitted in Rajat Sharma's Aap Ki Adalat that he had affairs with Raveena Tandon and Shilpa Shetty, but he has been faithful to his wife since his marriage.
"What's wrong if I have had affairs? I have always been a ladies' man. Since the time I got married, I have been faithful to my wife. After shooting, I return home to my wife and son", said the action hero, who has, of late doing comedy roles in films.  
Grilled by Rajat Sharma about his affair with Raveena Tandon, Akshay said "Haan, (affair) chala tha (Yes, there was an affair)".  On his affair with Shilpa Shetty, he said: "Main kah to raha hoon, Haan (I am saying, Yes). 
When he was told about Shilpa's reported remark that he had left her in the lurch, Akshay said: "I don't have a reply to that. The only person who can reply is the one who made the remark. I am a perfect gentleman and I never talk about women in my life. I have always maintained silence." 
The Bollywood hero however discounted reports about his closeness with
Priyanka Chopra
and
Katrina Kaif
. He however said: "It's a great thing to be called the sexiest man". 
"Love is the most important thing required in the world today.  Let's love, let's not fight", sermonized Akshay. 
About his action stunts, Akshay said, he always preferred to do the stunts himself. He recounted how while shooting underwater at 70 to 80 feet for the film "Blue" his head was bruised after hitting a ship and the blood that oozed attracted sharks. "I was taken out in the nick of time. A few minutes delay could have been hazardous", he said.    
"I love doing stunts, but I appeal to my fans not to copy these because it would be dangerous", said Akshay.  
Asked by a fan why he stopped doing the latest version of Khatron Ke Khiladi, Akshay said, "I just wanted a change. Cooking is one of my favourites. Before going in for martial arts, I was a waiter.  Every woman wants her husband to cook. Even Sylvester Stallone is a good cook and he has Italian restaurants where he cooks sometimes for his guests". 
Akshay said he was fed up of doing retro roles, like the one he did in Action Replayy. "I hate to wear wigs with gums pasted on my face. It takes nearly an hour to paste the wig and then stand in the hot sun to shoot with Aishwarya" 
What was the motivation in standing in the hot sun to shoot with Aishwarya? To Rajat Sharma's question, Akshay's reply was: "A fat cheque from Vipul Shah". 
Akshay did an impromptu dance with his fans in Aap Ki Adalat.
Do not miss Aap Ki Adalat with Akshay Kumar to be telecast on India TV on Saturday (Oct 30) at 10 pm and on Sunday (Oct 31) at 10 am and  10 pm.