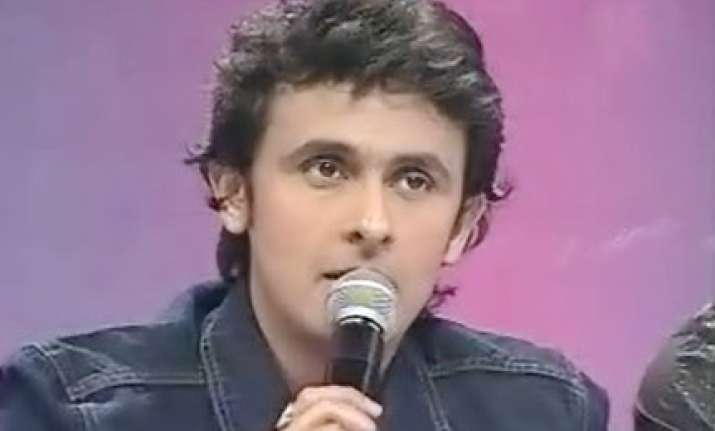 After a host of foreign concerts and producing his independent music, versatile singer, Sonu Niigaam is back on the Bollywood front, but this time he means business and that is not to sing "crap".
The 36-year-old singer whose 'Chiggy Wiggy' with Australian pop star Kylie Minogue and 'Don't Say Alvida' from Salman Khan and Kareena Kapoor starrer 'Main Aur Mrs Khanna' have turned out to be the new chartbusters, said that he consciously cut his Bollywood assignments because he did not want to be associated with low quality music.
"I did not want to work according to anybody's whims and fancies. After 17 years of my career, I think I can take this much liberty to associate myself just with quality music and say no to trash. I have worked hard to be where I am today so I better choose accordingly to protect my reputation," Sonu told PTI.
The singer, who is currently in the midst of a tour in Los Angeles, was in the city as the brand ambassador of Big 92.7 FM to change the music position of the radio station and launch the new "Chillax hits".
"My sensibilities of music matched with the station's. Item numbers come and go but now I want to sing some eternal songs which have a soothing effect on people....give them moments of relaxation in this fast paced life. The station plans to so the same," Sonu said.
Last year, Sonu was almost absent from the film circuit and produced his independent music. He released an album 'Classically Mild', and then came out with a single Punjabi track called "Punjabi Please". He also released 'Rafi Resurrected', a 2-disc collection of legendary singer Mohammad Rafi songs with music by the Birmingham Symphony Orchestra.
But when asked about his ardent fans who hear so less of him nowadays in Bollywood, the singer said, "This conscious decision is particularly for my fans. I don't want to disappoint them by singing anything and everything," the singer said.
"Personally I don't think I missed on some good music while I was away. I still here same kind of songs barring a few. The last song which I liked was 'Jab Se tere Naina Mere Naino Se' sung by Shaan (Saawariya)," he added.
When asked about his opinion about the current state of music in Bollywood, the singer pointed out towards the new trend of music composers turning into singers (read Shankar Mahadevan, Himesh Reshammiya, Vishal and Shekhar) which is depriving the audience with some great voices.
"Today everything has become a show business. The songs are being created so that they can later be sung at music concerts. Either composers are singing themselves or they are promoting singers who could sing for them for free at concerts. And at the end of all this, it is the listeners who are suffering," the singer explained. PTI