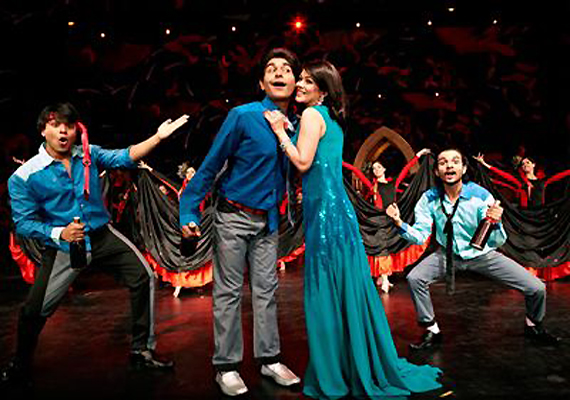 New Delhi, Mar 25: TV actor Gaurav Gera, who became a household name after playing Nandu in 'Jassi Jaisi Koi Nahin', is set to celebrate singer Kishore Kumar on stage in a musical comedy 'Jhumroo'.
The show, which will play at the Kingdom of Dreams, has been packed with 19 Bollywood retro songs. It is a celebration of the spirit of Kishore Kumar, a legend who continues to charm the young and old alike.

"I have grown up hearing Kishore Kumar. I am a huge fan of Kishore da's music. His music is haunting as well as melodious. I jumped at the opportunity to be a part of this musical. It is not exactly a tribute to Kishore Kumar but it is a celebration of his music. All his popular songs are part of the musical," Gaurav told PTI.

The story revolves around a young boy Bhola, who wants to be a great singing star. The trouble is that though he idolizes Kishore Da, he can't sing.

"It is a journey of Bhola's struggle to fulfill his dream with interesting twists and turns that take him all the way to the finals of a singing reality show," Gaurav said.

The actor, who is known for his comic roles on TV, will be seen shaking his leg on stage for the first time and he is very excited to show his dancing skills.

"I am happy to finally get an opportunity to dance. I enjoy dancing. I have been part of musicals before and also learnt jazz. But I was never offered a role that required me to dance. So I could not show my dancing skills. I am a fan of the 80's and I feel I belong to the era," he said.

Gaurav has been part of films like "Neal 'n' Nikki", "Dasvidaniya" and has hosted a number of TV shows, but the actor says that he does not like being part of daily soaps anymore.

"Daily shows are not my cup of tea. I am a lazy actor and I don't think I have the temperament to be part of soaps. To top it, the shows at times get very monotonous. It is not what I enjoy doing. I am happy to host shows," he said. Actress Shweta Gulati will play Gaurav's love interest in the musical.

"I am not singing. But I am definitely dancing. I feel I was destined to be part of 'Jhumroo'. The show is dedicated to Kishore Kumar and I fell in love with the concept as I am a song-and-dance person," Gulati said.

'Jhumroo' is set to begin showing at the Kingdom of Dreams in April.