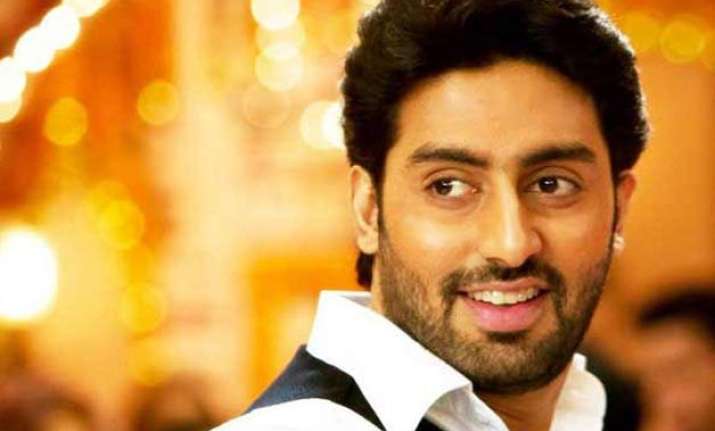 New Delhi: It is another weekend which will be tough for actor Abhishek Bachchan as his movie 'All Is Well' is releasing on 21st August. The movie depicts a dysfunctional family who is being chased by goons. Apart from Abhishek Bachchan, Rishi Kapoor, Supriya Pathak and Asin play pivotal roles in this Umesh Shukla directed flick.
Abhishek's 'All Is Well' will face stiff competition from Nawazuddin Siddiqui's 'Manjhi: The Mountain Man' at the box office. But Junior Bachchan doesn't care much about it. In his recent interview we saw sides of him which were hidden from all. He spoke about being rejected by Bollywood, about how difficult it is for an actor to deal with flop movies and the challenges he faced despite being superstar Amitabh Bachchan's son.
All this has helped Abhishek Bachchan grow as a person. He accepts that he has more flops than hits under his belt, but it is his never give up attitude that has made him B-town's darling superstar. He is known for his mannerisms, his sense of humour and his words.
We hereby bring you a list of 5 famous movie quotes by AB, as the industry calls him, which are full of inspiration, life insights and never say never attitude:
1) Jab log tumhare khilaaf bolne lage … samajh lo tarakki kar rahe ho – Guru (2007)
'Guru' is considered Abhishek's breakthrough in Bollywood. Loosely based on businessman Dhirubhai Ambani's life, this saw a powerful performance by Abhishek. This dialogue is still a favourite among cine buffs and has the power to lighten up a gloomy day.
2) A soldier lives by chance, loves by choice and kills by profession – LOC Kargil
In this multi-starrer movie, Abhishek essayed the role of Capt. Vikram Gupta who died a heroic death in what is regarded as one of the toughest operations in mountain warfare. This one liner perfectly sums up the life of an Indian soldier and AB delivered this one with ultimate perfection.
3) Har mushkil … manzil paane ka ek mauka hoti hai – Sarkar Raj (2008)
Abhishek Bachchan left critics and audiences spellbound with his portrayal of no-nonsense person Shankar Nagare. His sparkling acting earned him a Filmfare nomination for the best supporting actor. This strong statement taught the audiences that there is light at the end of the tunnel, a saying by which AB himself swore. 
4) Tumne mujhse shaadi ki hi nahin … samjauta kiya hai – Kabhi Alvida Naa Kehna (2006)
In KANK, Abhishek was a spoilt brat one second and a composed discerning husband the next. He was not buried in the presence of superstars in the movie and this dialogue left a deep impression on viewers. It taught audiences why love should never be a compromise.   
5) Maafi sazaa se badhke hoti hai – Dhoom 3 (2013)
The Dhoom franchise couldn't have been what it is without Abhishek Bachchan. Common to all the three movies as Inspector Jai, Abhishek Bachchan has always been loved in these movies. Not only being the one who chases thieves, Abhishek gave life insights too in Dhoom 3. In this dialogue, he speaks about forgiveness and how it is always better than punishment.