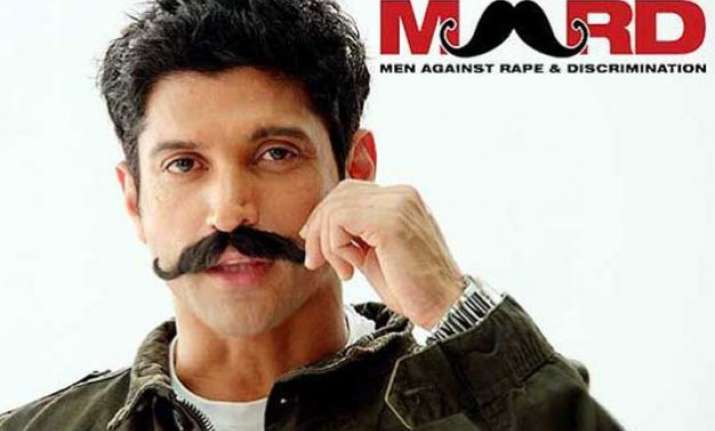 New Delhi: Farhan Akhtar is a man whose talents know no boundaries. He aces everything he does. He has produced brilliant movies, directed impeccable films, sung soulful songs, written soothing dialogues, danced trendsetting steps, entertained as a host in shows and acted in memorable movies.
Despite being the son of renowned writer Javed Akhtar, Farhan has made his place in the industry leaving his father's shadow. Apart from his commendable contribution to Hindi Cinema, there is another quality which sets him apart from his contemporaries.
Farhan is a feminist and he is using his star power in every possible way to bridge the gap between men and women.
On his 42nd birthday today, we bring to you five instances where Farhan took a stand for women around the world and taught men why gender disparity is something which shouldn't be ignored.
When he started MARD:
Hurt by the rape and murder of lawyer Pallavi Purkayastha in 2012, Farhan launched a campaign in 2013. MARD starts for Men Against Rape and Discrimination. Through this initiative, Farhan Akhtar highlighted the need for men to stand up for women's issues. He advocated for change in the ideas of masculinity, and to campaign for the end of violence against women.
The campaign became one of the most talked about topics soon on social media. After the launch, many B-town biggies like Shah Rukh Khan and Priyanka Chopra lent their support to the campaign.
When he spoke about pay disparity in Bollywood:
While most actors prefer to stay quiet on the actresses' demand for equal pay, Farhan addressed the elephant in the room. During one of his interviews he said, "I read recently somewhere that there are many female actors, who said they would want to work on a wage system that works even for men and I completely support them. If I want to cast them and they say that to me, then that's what I'll give them. But I can only speak about myself in relation to casting for a film."
This speaks volumes about how serious he is about bringing women equal to men.
When UN appointed him as the first male goodwill ambassador for Women:
Owing to his strong stance on eradicating discrimination, the United Nations appointed him as a goodwill ambassador for women in 2015. This made Farhan the first male to do so in South Asia. He is now an advocate for the campaign #HeForShe which works towards the empowerment of women and girls.
When he released a music video to encourage women:
Farhan Akhtar used his star power to rope in music duo Salim-Sulaiman and released a song, 'Chulein Aasman'. The song put forth an important message for the viewers to reflect on. Launched on behalf of the MARD campaign, the video highlighted the scarcity of women participants on the Internet and the need to encourage the same. This just explains that all Farhan wishes for is equal opportunities for men and women.
When he blamed men for the condition of women:
While speaking at the UN event where he was appointed the ambassador, Farhan did not shy away from accepting that men were the reason women go through the ordeal. "I truly believe that men have as important a role in the quest for a world without gender violence and discrimination as women do. It is our problem too. Not because we have mothers, sisters, wives and daughters, that still makes it about us," he said.
He further added, "It is our problem because is a human rights issue and we are all human beings. Nobody has the right to treat a human being differently than they would like to be treated themselves."