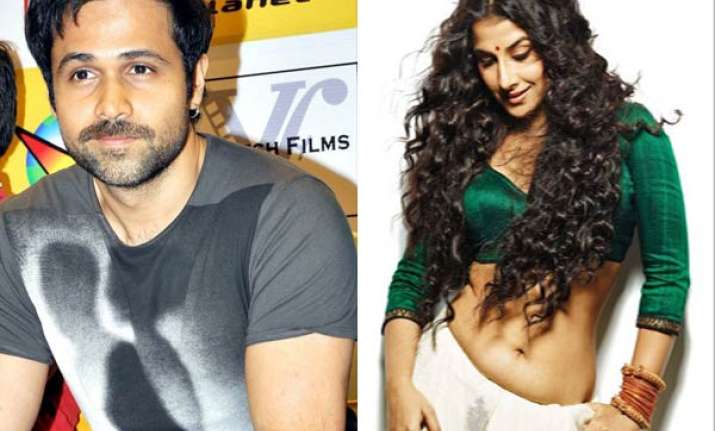 Emraan Hashmi and Vidya Balan are getting ready to shoot some very intimate sequences for 'Dirty Picture', a biopic based on the life of Silk Smitha, say media reports. 

Vidya will thus soon enter the long list of heroines Emraan has lip-locked on screen.Apparently, they would not only have a couple of sizzling scenes in the movie, but also an exceedingly intimate and romantic number together, says the report.

However, since this is the first time the two actors have been cast opposite each other, their director, Milan Luthria, is trying to do all he can to eliminate any edginess.Milan is first shooting the 'easier' scenes so that they become friendly and comfortable and then he will shoot the high-voltage ones.

"Their chemistry needs to be very natural. So Milan decided to schedule the 'sexy' portions for later," says the source.Apparently, Emraan, who plays a filmmaker in DP, gets attracted to Vidya, who's portraying a character based on southside sex siren, Silk Smitha.

"She has never played such a character before. So she's working hard to make sure that not the slightest awkwardness comes across on screen," says a source associated with the film.

"Since they started shooting, the two actors have cultivated a friendly rapport. It seems Emraan is often cracking jokes in-between shots and Vidya loves his quirky sense of humour. "

In the romantic song that will be shot at Ramoji Rao Film City in Hyderabad, they will be required to lock lips to bring out the love and intimacy their characters share," says the source, adding that the other kiss features in a scene they will be shooting after the song.