Follow us on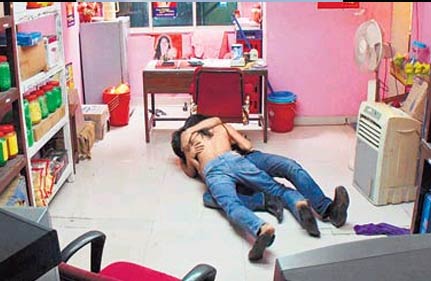 Mumbai tabloid Mid Day has come out with pictures of shocking sex scenes in Ekta Kapoor's next release, Love Sex Aur Dhokha  directed by Dibakar Banerjee.
It is a path-breaking film in many ways. It is meant to shock and outrage. And though the film transmits that in every thread, the most scandalous part of the film is the sex scene between two actors.  
The scene comes in the second story Paap Ki Dukaan.
It is the most shocking scene to be ever filmed in a commercial Hindi film. Never before have two protagonists stripped down completely. But the nudity in the scene is not even remotely aimed to titillate. If anything, it is gag-inducing, guaranteed to repel you. Like the rape scene filmed on Monica Bellucci in Irreversible.  
Director Dibakar Banerjee isn't happy, "I would like to state on record that I am not comfortable about the picture coming out. I want the scene to be judged as part of the film. To use the picture out of context will be damaging to the film. The idea is not to draw vicarious pleasure from it. The scene comes after you have lived with the character for 30 minutes. The story makes you live through the dilemma of the character and how they realise that they have done something they can never undo. It's tragic. I would advise the people who go to watch the film to not go for the nude scene as they will not get what they want."
Dibakar says, "I am apprehensive about the reaction of the members of the censor board as this kind of film needs that kind of sensitivity. I am all for the creative integrity of the subject matter and my job is to see that the message is delivered. It's not about the sex scene but how to retain the integrity of the story while remaining within the legal limits of the land. I'd say it's a genre-defining film and the most emotionally draining, gut-wrenching film I've made till now. There's a lot of  heart burn in LSD."
Ekta Kapoor, Producer, echoes her director's thoughts, "The purpose of the nude scene is not to  titillate. The scene is part of a story that deals with a MMS scandal and establishes  loss of face and faith after the act. The scene is so stark and shot so realistically that at the end of the story, women will feel upset, men scared. When you love someone, you are uninhibited but when that person takes advantage of that, it's disgusting!"