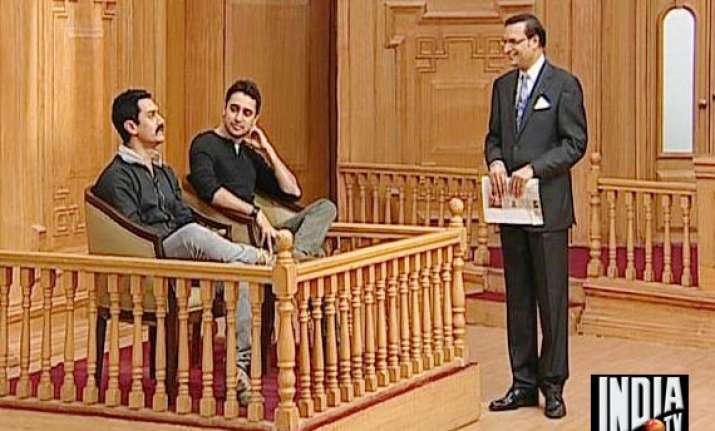 New Delhi, Jul 9: Bollywood actor Aamir Khan defended his latest film Delhi Belly on Rajat Sharma's Aap Ki Adalat saying that it was a humorous film meant for adults only.
 
"This film is only meant for adults. As a creative person, I did this film only because of its underlying humour. We couldn't stop laughing when my wife and I first read the script", said Aamir.

"I know my loyal fans expect a different genre of films from me. But this (Delhi Belly)  is totally different. Like people in India use the choicest of abuses during Holi celebrations, once in a year, this film is similar to that. It's only for adults, and we sought the 'A' certificate ourselves from the Censor Board because of that", said the Bollywood actor, renowned for sensitive films like Taare Zameen Par.

Aamir's advice to people who cannot stand abuses is: "Don't watch my film if you can't."

Aamir said, he valued his relationshsip with his fans, but as a creative person, he felt  he should make this film because of its humour.

"As a citizen of this country I always follow the law, and we on our own requested the Censor Board to give the film an 'A' certificate, unlike other film makers who make do with an U-A certificate", said Aamir. 

Asked about his mimicking Anil Kapoor in one of the songs in the film, Aamir Khan laughed and said " Mujhe bada mazaa aaya karke" (I loved doing it). It so happened that Anil was out of India during this period and he didn't see the film. It's a retro song dating back to the 80s". 

Imran Khan, the film's actor and Aamir's nephew, who was present at the show said: "There are too many films showing sex and violence. At least Delhi Belly is different.  There are films which are downright obscene, violent  and even anti-women. I would rather prefer using abuses then killing somebody". 

In an oblique reference to rival Salman Khan, Aamir said: "When others do, it's okay, when I do, they say, character dheela hai". 

"Basically", Aamir said, "films do not run because of abuses, or sex or violence. Films run only when the audience like the story, the scenes, the roles and comedy".

Do not miss Aamir Khan and Imran Khan in Rajat Sharma's show Aap Ki Adalat to be telecast on India TV on June 9 (Saturday) at 10 pm and  on June 10 (Sunday) at 10 am and 10 pm.