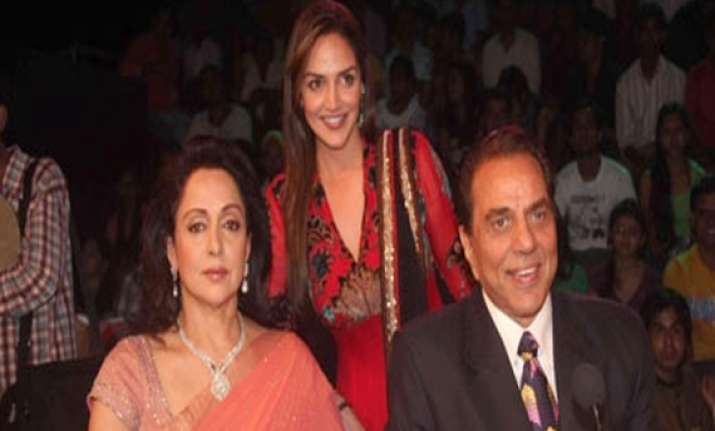 New Delhi, Oct 21 : They have given many hit films together and became one of the most popular on-screen pairs of Indian cinema but actress Hema Malini says directing Dharmendra in her upcoming film was tough.  Hema, 63, who is directing her husband in new project 'Tell Me O Khuda' along with daughter Esha Deol, says Dharmendra is a "highly involved" actor who gets so into the skin of the character that it becomes difficult to put cinematic reigns on him.

"I have stalwarts like Rishi Kapoor, Vinod Khanna and Farooq Sheikh in my film but directing Dharmendra was a challenge for me.

"Before giving the shot he used to ask so many questions that I had to prepare myself beforehand. He is an involved actor and sometimes his involvement in the scene is so tremendous that you can't even call off the shots," Hema told PTI.

In the film, Hema managed to give Dharmendra a completely different look, that of a Goan don sporting a black tuxedo with sideburns and tattoos on his arms.  "He is playing a Goan don who is extremely sophisticated in his appeal. For the first time he has experimented with his looks. Else you would always see him mostly in his khaki shirts. Esha is behind his look for the film and people are already paying compliments," said Hema, who was in the capital recently to promote the film releasing on October 27, a day after Shah Rukh Khan's 'Ra.One'.

Asked about what new strategies she is adopting to promote her film in competition with 'Ra.One', Hema said, "I cannot compete with Shah Rukh Khan because it is a 150 crore budget film. We haven't spent so much in our film and so, I don't think I need to do something extra-ordinary for my film."

Hema, who turned director in 1992 with Shah Rukh Khan-Divya Bharti starrer 'Dil Aashna Hai', delves into a similar subject of a girl in search of her father in 'Tell Me Oh Khuda'. The film will see Salman Khan in a guest appearance.

"When Salman heard that I am going to direct another film, he called me up and expressed his desire to work in the film. Since he was busy with other projects, he made a guest appearance in the film," she said.

The film is also said to be a re-launching pad for daughter Esha, as she is yet to taste success in the industry.  "I have tried to bring out the best in Esha through this film and it will definitely take her to a new level. I only asked her to take a sabbatical for sometime and focus on dance and other aspects of filmmaking," she said.  But Hema said the film doesn't have any dance number from Esha because she does not believe in the concept of item numbers in films.

"I don't believe in 'Munni', 'Sheila' and 'Chhammak Chhallo'. They are simply vague and ruining our traditional dance forms. I would rather love to make a film based on classical dance forms but I fear that it won't get its due audience," she added.