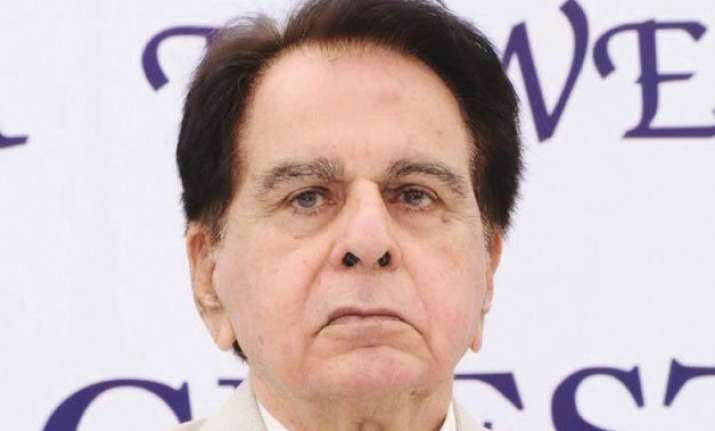 New Delhi: Dilip Kumar has once again been dragged into death hoax.
The text that went viral on messaging app - WhatsApp states that the 'Devdas' actor died in Mumbai's Lilavati Hospital on Monday. 
"Big loss of the film industry. Bollywood superstar Dilip Kumar passes away at Lilawati Hospital of Mumbai," the message read.
For sure most of his fans skipped a beat when they received this message on WhatsAap but in reality Dilip Saab is doing absolutely fine, according to a leading website International Business Times.
The news also took social media by storm as a few of his fans started giving him condolences on twitter while others slammed the person for spreading this unnecessary message. 
"The news of the death of Dilip kumar goes viral on whatsapp.sorry for it May God give him along life", a twitter user posted.
On the other hand, a furious twitteratie asked for WhatsApp ban for circulating such news. "Dilip Kumar saheb is fine and healthy. Pls stop believing in rumors. And Whatsapp should be banned."
Dilip Kumar's death rumours also did rounds the last year but Big B slammed the news on Twitter stating that, "Some baseless rumours being spread about Yusuf Saheb - Dilip Kumar, being ill .. Saira ji just informed me he is perfectly fine."
WhatsApp is becoming a platform for celebrity death hoax in recent times that not only is troubling the actor but also his/her family.
Few days back on hearing his death news, the deeply saddened actor Shakti Kapoor expressed his grief by issuing an open statement to media stating, "It's been very sad that somebody puts it on Whats App about accident and my death which not only disturbs me but more to my relatives, friends and fans as well. With God's blessings I am fine. This news is a total fake but has disturbed me and lots of people."  
Meanwhile, other Bollywood celebrities including Amitabh Bachchan, Madhuri Dixit, Lata Mangeshkar, Katrina Kaif and Ayushmann Khurrana have faced such death hoax in the past.