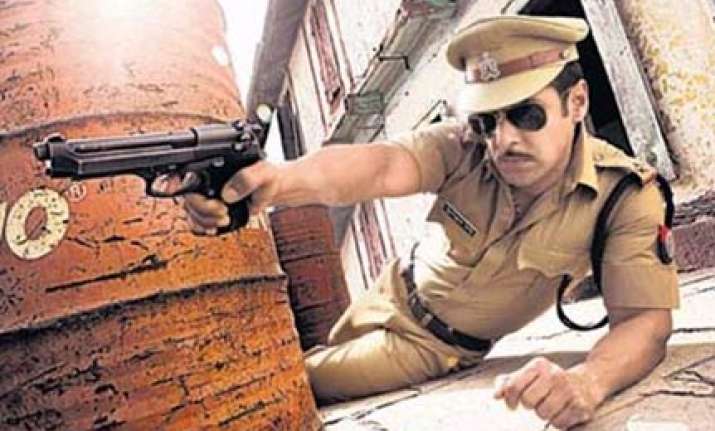 Arbaaz Khan's Dabangg, starring Salman Khan and Sonakshi Sinha in the lead roles, is all set to release on Eid a few weeks away, but rumblings of discontentment already seem to be coming from its director Abhinav Kashyap, says a media report.
The report quotes a source, "Abhinav is upset with the way Dabangg has shaped up because the script that he narrated to Salman and Arbaaz is quite different from what is on film today. This is largely due to Salman's inputs. The actor wanted to go several steps ahead of his last hit Wanted, and contributed ideas."
It is learnt that the actor, who is now also writing scripts, is quite clear about what he wants to do in a film. When being directed by a newbie, he gives his two-bits because as someone who has been acting for close to two decades, he knows what works for his fans and what his audiences want to see him doing on screen.
On a TV show on a news channel on Sunday night, Khan admitted that he'd even helped with some of the dialogues. There have been reports of the actor directing five major action sequences in Dabangg, and Abhinav feels he won't get his due credit with such rumours circulating. Even during the Wai schedule, there were reports that the first-time director was disgruntled by Sallu calling the shots.
Although there is a positive buzz around the film and it topped a poll of films people want to see this season, the director is sceptical.
 Says the source, "Abhinav has been telling some of his close friends that he's not happy with the way Dabangg has shaped up as its 30 per cent his direction and 70 per cent Salman's effort. But of course, he will never say it to Arbaaz or Salman as they gave him a big break and if a debutant director talks negatively  about his film before its release, it will reflect badly on him."
Kashyap gets defensive when contacted, "You have calculated the percentage also? I think I can safely say you are 20 per cent mathematician and 80 per cent mischief monger!"
Producer Arbaaz says, "It's all rubbish. We have had a great working relationship with Abhinav. We have worked and given our inputs to everyone's mutual satisfaction."
When reminded that he has in his interviews talked about Salman directing major scenes, he adds, "Salman is a huge star and it's my production so he and his inputs are always welcome. If he contributes as a star, an actor and brother, what is the harm?"