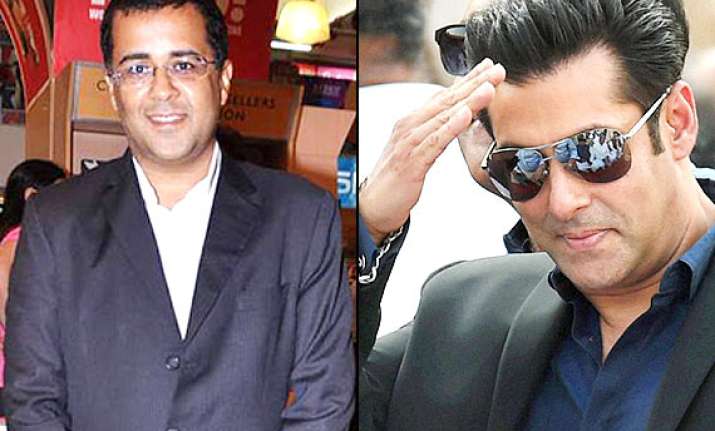 New Delhi: Chetan Bhagat flares massive popularity amongst his readers every time he comes with an announcement of his latest offering. With the mention of his upcoming, 'Half Girlfriend,' the man has already created a storm around the book, set to be released in October, later this year.
So much anticipation is painted around his each writing that his website recently got crashed the moment he announced his upcoming novel.
Would you believe if we tell you that Chetan Bhagat is the 'Salman Khan' of the literary world? Now, what is it that makes Chetan Bhagat stand at par with superstar Salman Khan? Read on…
While expressing her views on Salman Khan, acclaimed movie critic and host, Anupama Chopra called him 'the last rock-star of the industry.' With his unmatchable fan-following and a 'dare to do it' attitude, Salman Khan fits well in even a least imaginable character. He is truly considered as a personality who hits your heart and not actually the wit, as he himself says 'Main dil me ata hu, samajh me nahi.'
With all that similar masala comprising action, meaningless fun, cliché romance and heavy dialogues, there is nothing much but only 'Salman Khan' that one can associate with his films. Such grandeur surrounds his image that you can't resist getting flowed with his giant magnificence.
Chetan Bhagat too runs on the similar periphery. All his creations cook the similar emotions balancing a youth story line, sex, a bit of drama and to top all, way-too simple language for a reader. Though, he has been appreciated for giving a simple yet engaging ground to all his novels, a few others take it as an effluent path of writing.
And may be such simple approach in all his writings is the reason behind the conversion of his most of the best-sellers into a blockbuster film.
While Bhagat's writings surely proves gripping, it's his 'I give a damn to criticizers' attitude that speaks volume of his courage and never-to-stop stance. In his own words, "I try to reflect India's current time in the most entertaining manner. And in the process I try to deliver a social message. My books touch a chord somewhere — I feel I am just being honest."
He throws full entertainment and engagement with all his narratives he writes and promise to deliver great ride of delight with his offerings. It's these endeavours that make us compare him with the man in the Bollywood who has recently given a huge kick to the industry.
Well, we know both these stars are uber successful in their respective fields and enjoy a great round of appreciation each time they come up with something for their audiences.
Thus, with Salman Khan's 'Kick' cashing high on its success, we wish Chetan Bhagat a good taste of success too!