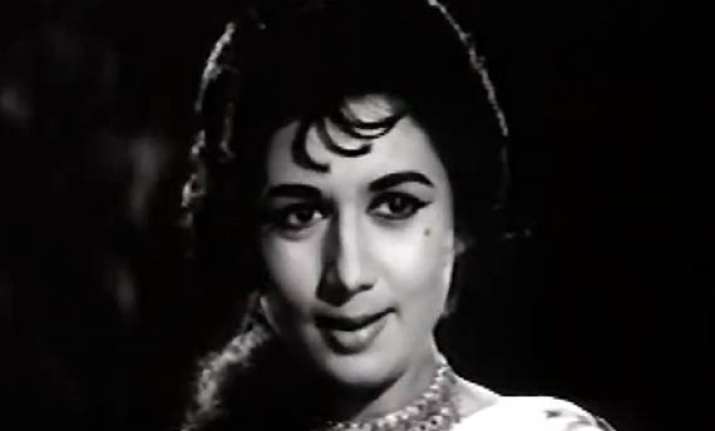 Niece of legendary director V. Shantaram, Nanda was just 17 when she made her big Bollywood debut with her uncle's movie Toofan Aur Diya released in 1956.
Not many know but this actress became the sole earning family member in her family after her father passed away when she was just 8 years old. Nanda entered the industry as baby Nanda to earn money in Bollywood.
She was always a shy and introvert teenage and as she grew up to be a beautiful young lady she remained as the same old shy person. Actress Waheeda Rehman was always there for her during her life's hardships, she remained her best friend all her life.
Nanda until her death had a group of 5 friends form Bollywood including, Waheeda Rehman, Helen, Asha Parekh, Sadhna and Shammi Kapoor with whom she regularly had lunches and used to watch movies. 
She went onto being Bollywood's 2nd highest paid actress after Nutan from 1960-1965, 2nd highest paid Hindi actress in 1966-1969 along-with Nutan and Waheedha and 3rd highest paid Hindi actress with Sadhana from 1970-1973.
Nanda being a shy person never had any relationships, even when a handsome Maharashtrian colonel approached her mother with a marriage proposal for Nanda, nothing came out of it. She remained unmarried all her life.
On being constantly cajoled by best friend Waheeda, Nanda finally gave in and got engaged to noted director Manmohan Desai. And as the destiny could have it, one year later after Nanda's mother passed away Manmohan Desai died in a freak accident after he fell off the balcony as the railing on which he was leaning collapsed.
She might have had a turbulent personal life, but Nanda never gave that away in her movies. Take a look at her best performances which leave behind her a legacy to cherish.....
Nanda changed her image by doing the role of an ultra-modernized girl opposite Shashi Kapoor in Jab Jab Phool Khile (1965).

Write a comment