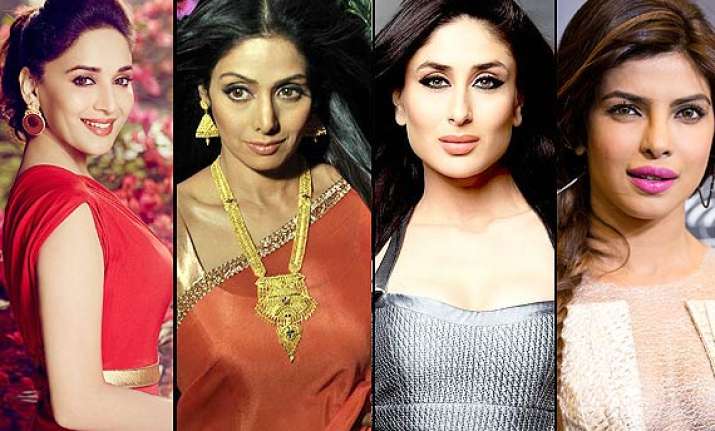 Two actresses can be never be friends! While we have had examples of many Bollywood divas who can never lie at par with their stark contemporaries, there have been a few like Deepika and Priyanka who share a close bond even though being the leading actresses of the industry.
Bollywood has always been full of gossips, rumours are bound to happen once you step in this world of glamour and as you enter, you observe many cold reactions and jealousy around if you have that potential to prove your metal.
That's when this whole game of running to 'leave behind others' and not for 'achieving success' begins.
A look at Bollywood's infamous cat fights through my eyes will seem as mundane as a morning cup of tea!
Over the years, Bollywood paparazzi seem to have gone overboard with reportage on catfights in tinsel town --
Katrina Kaif
and
Anushka Sharma
caught in a "catfight" over a make-up man; "catfight" between Kareena Kapoor and
Deepika Padukone
over
Saif Ali Khan
-- it seems too consumed in something which perhaps every woman goes through at least once in a lifetime.
But....it's a celebrity's life, I guess.
From Jaya Prada and
Sridevi
, Sharmila Tagore and Raakhee,
Bipasha Basu
and Kareena Kapoor, Kareena and
Priyanka Chopra
,
Sonam Kapoor
and Aishwarya Rai, Amrita Rao and Esha Deol... the list can go on.
Many have pointed at Kareena as being the 'queen' of catfights in Bollywood, but the actress, as straightforward as she is, has gone on record to say that she isn't here to "make friends".
When actors as talented as Rani Mukerji and Vidya Balan starred together in "No One Killed Jessica", the two beauties could never emerge out of a press conference without being asked: "Did you have catfights?"
Ditto when Priyanka Chopra and
Kangana Ranaut
featured in highly comparative roles in "Fashion"!
I am curious.
Did you never fight with your sister over a borrowed hairband, earrings or dress? Did you not loathe the girl who tried to woo your 'crush' in school? Didn't you enjoy sitting on the stairs in the college campus and passing snide remarks at every girl who wore something 'weird'? Have you also never felt jealous of the cousin who always flaunts the best of brands and goes to the most happening parties in town?
Okay...did you also never sit down in a corner and shed tears when your sister or best friend was praised because people found her prettier, more talented, or just more intelligent? Did you not ignore the girl who scored higher marks than you in school? Have you not gossiped about another girl?
Have you experienced a journey in the ladies coach of the Delhi Metro? It's more often than not more entertaining than a comic movie, with women brawling over a one-buttock-space of seat.
I see catfights almost every day - and believe me or not, they're more dramatic, eye-catching, intriguing and enthralling than those that hog space in tabloids.
Catfights are often a result of a woman's insecurities, needs, desires and dreams. The maturity to deal with it comes with age - just as it happened with the ever-charming Juhi Chawla.
She recently admitted how during her prime, she was wary of being paired with her contemporary
Madhuri Dixit
, and she was insecure about being compared with Madhuri, Manisha Koirala and Karisma Kapoor.
"I was a little foolish, young and insecure," she said in an interview recently. But with time and experience, her perspective has changed - a fact well-testified by her decision of sharing the frame with Madhuri in her latest release "Gulaab Gang".
Maturity is what also needs to seep into Bollywood reportage.
In times when we talk of promoting women empowerment on and off the screen. let's take a while to see the effort that goes behind the greasepaint, instead of scrutinising the unnecessary.
Opinions can be a plenty, but as many in the field would tell me - a celebrity is a celebrity - everything they say, wear, do or not do, will catch the eye - catfight or no catfight.
'Meow' to that!