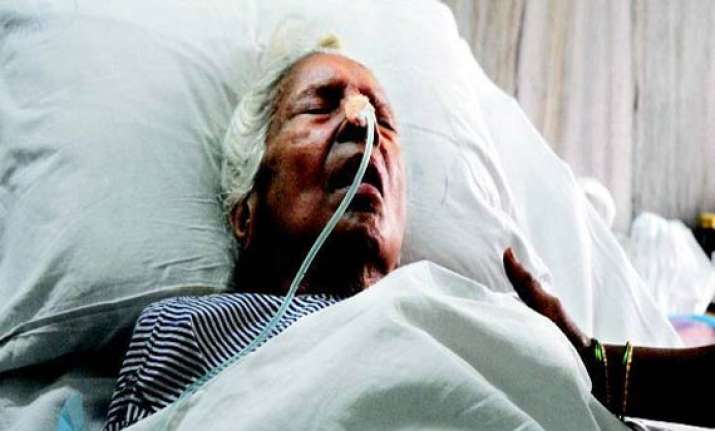 Pune, Dec 24 : Bollywood's yesteryears actress Achala Sachdev, famous for the song Ai Meri Zohra Jabeen, is fighting a lonely battle in the Poona Hospital against paralysis. 
Two attendants are needed to take care of her but there are none, reports Pune Mirror. 

Forty years ago, Achala Sachdev moved to Pune after marrying British national Clifford Douglas Peters, making the city her home.However,despite attempts at philanthropy, Sachdev has been abandoned by the same city in hard times, after her husband passed away in 2002.

For the last 12 years ,the actress has lived a lonely life in her two-bedroom Konark Estates apartment near Poona Club,with only a night attendant to take care of her.


On September 8, Sachdev suffered a fracture in her femur when she went into her kitchen to get a glass of water.

She was shifted to the Poona Hospital and Research Centre but discharged soon.Then,she was re-admitted after she being diagnosed with multiple emboli in her brain leading to quadriplegia - total paralysis of all four limbs and torso.

Since October 21,Sachdev is under treatment at Poona Hospital.It would be a miracle if she survives this.

Rajiv Nanda, a close family friend of Sachdev, told Pune  Mirror that he has been contacting people from the film fraternity and updating them about Sachdev's heath. However,he complained that there are no attendants to take care of her at the hospital.

"She needs proper care and right treatment.There should be two fulltime attendants with her", Nanda said.After her husband's death, Sachdev spent most of her time meditating and listening to meditation music and discourses.

Five years ago, she gifted her flat to the Janseva Foundation.  In return,  founderchairman Dr Vinod Shah took on the responsibility of looking after her Shah told Pune Mirror that Sachdev's condition is improving and she is responding to medication.
"I am taking proper care of her. For the last few days there have been no attendants, because they are squabbling with hospital staff."

Otherwise there are always two attendants looking after her. Her son will reach Pune on December 27 from the US", Shah said.

Nanda narrated how Sachdev met and married Peters and came to Pune.In an almost filmy turn, Sachdev was introduced to Peters by Yash Chopra on the sets of a film in Mumbai.

Peters' first wife had passed away by then and Sachdev herself was a divorcee.They ended up tying the knot.




Peters,a mechanical engineer,had a factory in Bhosari and the couple lived in a bungalow in the same area for a while before shifting to Hadapsar.

"I was introduced to the couple when I had gone to attend to a leakage problem in their house some 27 years ago. We soon became very good friends .Peters always motivated Sachdev to keep acting as she was so passionate about it", Nanda recalled.

Sachdev's son Jyotin from her first husband, says Nanda ,studied and worked away from home.

Though in 2006,Sachdev visited him in the US for her granddaughter's wedding, the son hardly ever visited her, preferring to keep in touch over the phone.

Sachdev also has a daughter in Mumbai,who is not in touch with her. 

Achala Sachdev has acted in more than 250 films in her career. She began her career in Bollywood as a child star. But soon,she became popular for doing roles as a mother and grandmother.
Her memorable films include Arzoo 1965, Waqt 1965, Mere Naam Joker 1970, Hare Rama Hare Krishna 1971, Chandni 1989, Dilwale Dulhania Le Jayenge 1995,Kabhi Kushi Kabhe Gham 2001, Kal Ho Naa Ho 2003