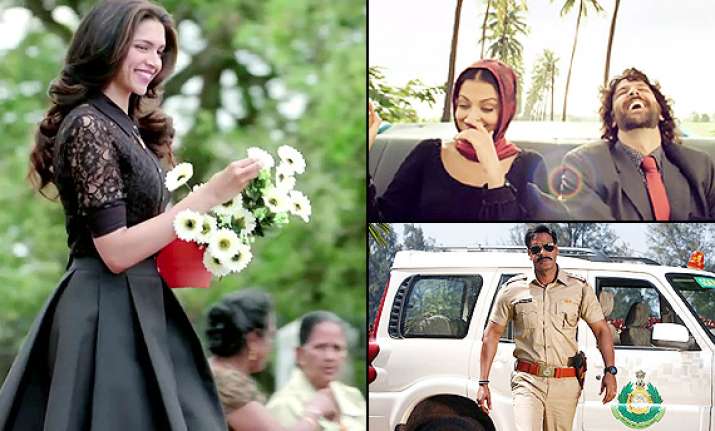 Finding Fanny is generating the buzz slowly and steadily amid the audience's wit. Apart from the entire star cast that includes big names like Deepika Padukone, Arjun Kapoor, Dimple Kapadia, Pankaj Kapoor and Naseeruddin Shah, what is more intriguing is the backdrop of the film.
Finding Fanny is more of a road trip exploring the culture and colours of the beautiful state of Goa. Though a short film, Finding Fanny delegates its story in various matrixes reviving the beauty of Goa and playing around its ethnicity.
With the perfect Konkani touch, the film is set to hit the right chord with the characters molded in an elaborated Goan lifestyle.
From Dimple Kapadia's modern aged woman to Deepika's fresh Christian look, everything seems to be complementing what can be described as a Great Goa Gatsby.
Finding Fanny is not the only film to have used 'Goa' as the core background, several Bollywood films since many years have been giving and highlighting glimpses of this marvelous  modern state of the nation.
Everything from the beaches to the serene beauty, churches and the ultimate Konkani lifestyle, the place have remained impeccable and worth sustaining myriads of flowery words to explain its aura.
Starting from Amitabh Bachchan and Aruna Irani's comedy-action flick, 'Bombay to Goa,' and stringing the legacy to films like 'Khamoshi: The Musical,' 'Dil Chahta Hai,' 'Mujhse Shaadi Karogi' amongst many other hit ones, Goa has successfully presented itself as a place providing the entire desired flavour by any Bollywood offering.
While Rohit Shetty's whole Golmaal's series consummated in and around Goa, his 'Singham' series too have been extensively shot at the place.
Films like 'Josh,' 'Dum Maaro Dum,' '36 China Town' have played around how the contemporary Goa structure doesn't only caters to its magnificence, but also finds associations with several ill deeds.
With a film like Guzaarish, Goa has attained a whole new interpretation and the film has acted as a sure accolade to the precise culture of the place.
Dhamaal, Dhoom, Chashme Baddoor, Albela, Dil Toh Bachcha Hai Ji, Apna Sapna Money Money are a few more prominent names listed as films with Goa as their backdrop.   
Goa has carved a novel popular cinematic backdrop and no doubt the usage is being appreciated since always. The lingo, ethnicity, attitudes, and various vibrant hues that surround the place definitely mark for a rare cognitive deal in film making.