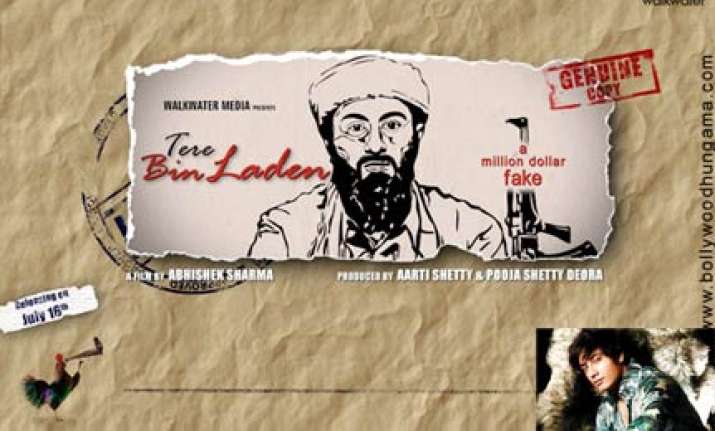 Ali Zafar, widely known as Lahore's Prince of Pop, has been given restricted visa to India to promote his Bollywood film Tere Bin Laden.
Director Abhishek Sharma had to go through a red-tape struggle with MEA bosses to get down Ali Zafar for promotion of his film in India, says a media report.  
Ali, who plays the lead role, was denied an Indian visa until this week. Finally, the authorities relented and allowed him entry into Mumbai, Delhi and Chandigarh for a month only starting Thursday.  
 In Lahore, Ali is known as the Prince of Pop, he is an actor, musician, painter and model. But chances of seeing him perform live in India are bleak. Separate permission is required for that. 
Yet Sharma, who has got Shankar-Ehsaan-Loy scoring the music for his film, is hoping to stage at least one concert with Ali in Mumbai to promote his July 16 release, says the report.  
According to the director, it was 26/11 Mumbai terror attacks that did him in.  
"All problems began after that," complains Sharma. "Fortunately we shot the film before 26/11. So there were no issues getting Ali into Mumbai then."  
Shooting was held in Mumbai and Hyderabad and meant to resemble Karachi, just as was done in the case of Angelina Jolie's A Mighty Heart based on the murder of American jounalist Daniel Pearl.  
Tere Bin Lade is  produced by Pooja Shetty Deora's Walkwater Media. 
Set in Pakistan, Tere Bin Laden is a tongue-in-cheek comedy centred on a young and ambitious Pakistani news reporter (Zafar) whose attempts to immigrate are thwarted as his visa is always rejected.
When he chances upon an Osama lookalike, he decides to create and plant fake videos of Osama bin Laden threatening to take over the world. His aim? To score airspace at Danka TV, the news channel he works at. That apparently will help him realize his American dream. However, things don't go according to plan and the White House gets involved, putting a secret agent on the reporter's trail.
Tere Bin Laden also stars a largely fresh cast – Chinmay Mandlekar, Chirag Vohra, Nikhil Ratnaparkhi, Pradhuman Singh, Rahul Singh, Sugandha Garg, along with Piyush Mishra, Seema Bhargava and Barry John.
Pooja Shetty, who is producing Tere Bin Laden with her sister Aarti Shetty, said the film will be liked for its humor.
Director Abhishek Sharma said he got the concept for the film from something his wife said. He said one day, when he hadn't shaved for months and his beard had gotten very long, his wife told him he looked like Osama.
That set Abhishek Sharma thinking about how to do a film with someone who mimics Osama on screen, he said, adding that the hunt for an Osama lookalike was tough. He finally chose Pradhuman Singh, a friend from Delhi, with whom he'd done theatre some few ago.
The director said the film could not have been shot in India as it is set in a Pakistani milieu. Pakistani writer Sayed Mohammed Ahmed was roped in to tutor the cast on diction and co-write the dialogues. Barry John worked as an acting coach.
Ali Zafar, a very popular figure in Pakistan, made his debut as a musician with Huqa Pani. His debut film is being eagerly awaited by fans in Pakistan. In Tere Bin Laden, Ali Zafar has also sung two songs – a solo song titled I Love Amreeka and a duet with Shankar Mahadevan titled Ullu Da Patha. His third album Jhoom is also awaiting release.