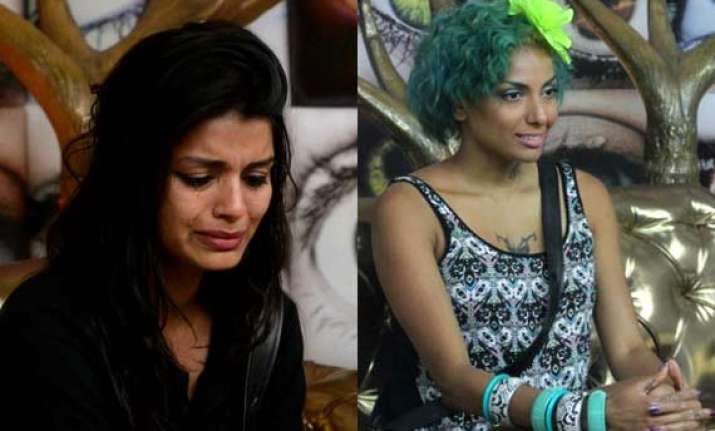 New Delhi: Bigg Boss 8 seems to be turning into a nightmare for a few contestants.
After a chaotic day 1 of luxury budget task Superheroes vs. Supervillains, the contestants continue to remain in their respective teams trying their best to hold their ground while resisting the urges of changing sides.
The day begins with Gautam and other members of the villain team the heroes and villains rush towards the garden area to check out the flag.
Karishma and her team mates curtain the flag to protect it from Pritam's team. The villains decide to tear the cover to unveil the flag and Gautam brings a pair of scissors to cut it off.
Karishma gets aggressive and defensive to see Gautam cutting the cover and she warns him to steer clear from her. Minissha says that if they are wrong by covering the flag, then BB will make an announcement to stop them from doing so.
After they remove the cover of the flag, Karishma strategises with her team to protect their flag from the villains. Upen asks Diandra to shield them from Sonali because she gets easily intimidated by her.
Minissha suggests her team to hide things like spices, bathroom products that could be used by the opponents to weaken the hold of heroes from the flag.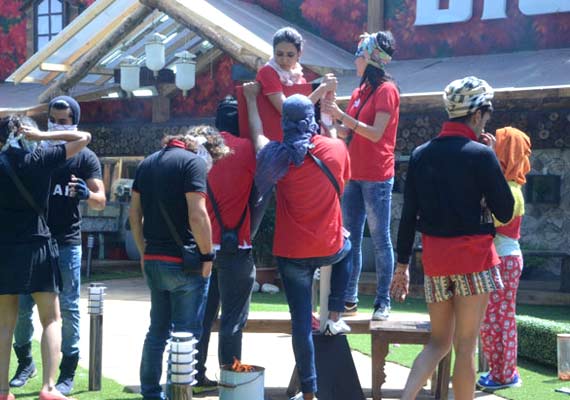 Pritam's team brings a bucket full of inflammable material put on fire to scare away the heroes. However, Diandra and Minissha douse the fire by bringing water from the pool.
Suddenly, Sonali comes in the scene and throws water on Diandra. Diandra does not take Sonali's action kindly. On the pretext of picking a bucket, she catches hold of Sonali and swirls her violently. Sonali somehow saves her from severely hurting herself.
However, Praneet, Gautam and Pritam instantly catch Diandra red handed and demand an action against the use of violence.
Karishma and her team mates defend Diandra, who by the way look unapologetic. P3G hold on to their stand and blame Diandra for resorting to cheap tactic.
Gautam speaks on camera demanding Diandra's eviction. BB calls Karishma and Pritam in the confession room. They are asked to tell all but instead an argument ensues inside the confession room too with both the leaders defending their respective team mates sharply.
After lots of drama and fights for protecting flag, BB angrily declares the task as null and void.
Later, Sonali sits down with her team sobbing inconsolably at what Diandra did to her. Sushant, the only member from Karishma's team, was seen sympathizing with her.
Sonali says that this game has been getting dirtier with every passing day and she can no longer take it. Praneet tries motivating her to not to give up and asks with a powerful voice if other women would stand up for Sonali this time (just as they did for Karishma).
On the other hand, Diandra laughs looking at the men supporting Sonali and expressing distaste over the entire incident. Sonali goes on to pack her bags but is stopped by her well-wishers.
Gautam says openly that in the sorry incident, people have settled personal scores on the pretext of doing the task. Diandra laughs hearing Gautam speak up and this irks him further.
He goes near her and asks her how she could dare hitting a woman being a woman herself and asks her to hit him if she has the guts.
Diandra laughs it off again and then calls him back to face her if has any power in his pants.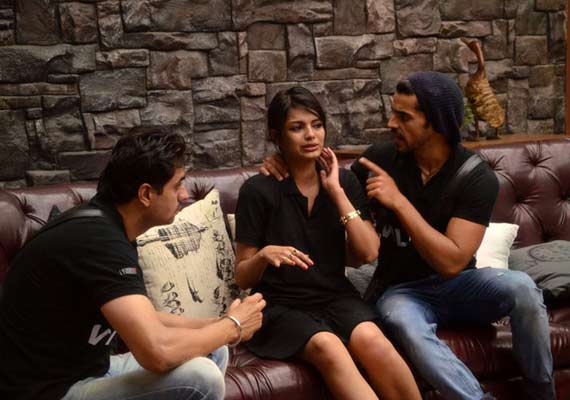 BB summons Sonali in the confession room and ask her to open up about what happened. Sonali narrates the sad incident that involved Diandra manhandling her intentionally.
She tells BB that her looks mean a lot of her being an artist and the way Diandra dealt with her could have hurt her.
Sonali breaks down into tears saying that the unfortunate happening would sadden her parents. BB consoles Sonali by telling her to keep strong in the face of adverse situations and assure a strict action against Diandra.
The members of Pritam's team sit in the garden, refusing to eat or cooperate with others unless Sonali's gets justice for being manhandled.
Later, BB asks all the housemates to assemble in the hall area, and declare Karishma's team as the winner of the task owing to their win on Day 1 of the task.
BB also reprimands the members using violence and especially punishes Diandra for hurting Sonali. Diandra gets penalized by getting directly nominated for the evictions for the coming week.
As Bigg Boss is known for the never ending twist they bring every time, this time they introduced a wild card entry on the show!
Yes Dubai-based singer-actor Ali Quli Mirza made way into the Bigg Boss 8 home. Only time will tell what the new entrant will bring to the madhouse.