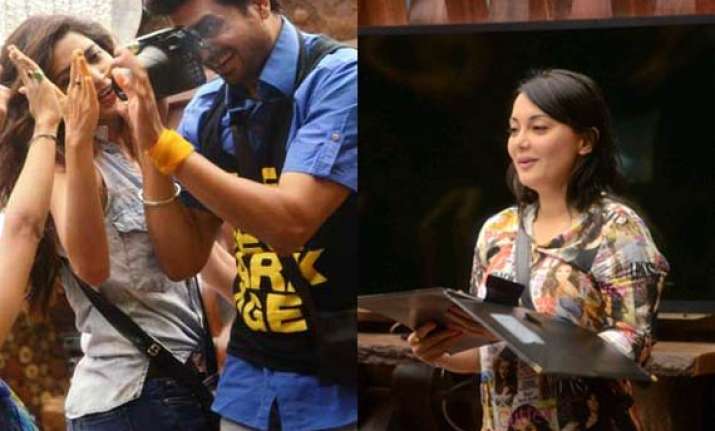 New Delhi: On day 17, the BB contestant woke up to the tunes of 'Dulhan toh jayegi Dulhe Raja ke sath.'
While the Lambas and the Babbars had successfully completed the previous day's tasks, Bigg Boss assigned them with five new tasks so as to finally reach the end result and declare one team as winners.
On Day 2 of Lambas vs Babbars, the five tasks given to the housemates required Upen and Sonali to dress up as bride and groom, take blessings from all family members of the Babbar family, get wedding album pictures clicked in five different locations in the house, take wedding vows and inscribe mehendi tattoos of their names on each other's arms.
Babbar's were to protect the mangalsutra and sindoor in the bedroom, while Upen had to sneak in and steal it with the help of Lamba family and put it around Sonali's neck.
Before the beginning of the task, Sonali, Deepshika and Gautam decide not to indulge in argument with the members of opposition team.
However, the contestants get worried about their lunch owing to extreme hunger. The Babbar team wishes to eat first and play later whereas Minissha insists on eating after a while.
This discord continues for a while but at Upen's behest Minissha and Deepshika agree to cook for the inmates before beginning the task.
Meanwhile, Gautam helps Upen and Sonali get one of the sub-tasks done. He takes them inside the bathroom and gets the duo's name tattooed on their arms with henna cones.
Puneet learns about the completion of the tattoo task and spreads the news between his team mates. Confusion ensues when Minissha tries clearing the air by saying that her team would have begun the task after lunch.
Upen feels guilty and declares the tattoo task null and void and tells all to do the task after lunch hour when all are ready for the game.
The Babbars thank him for showing generosity and carry on with the luncheon.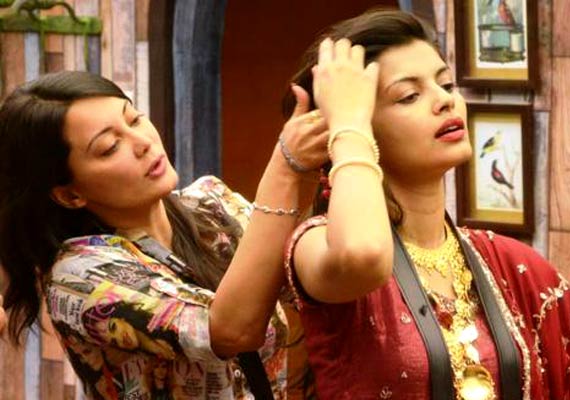 While Sonali gets busy in getting her make-up done by Deepshika, Diandra whispers in Karishma and Arya's ears to ruin the make-up so that the 'wedding' pics get spoilt.
Karishma suggests not doing so but Arya insists on going by Diandra's idea. Karishma agrees to do the bidding and goes on to throw water on Sonali despite Deepkshika warning her not to do so.
Sonali tries distancing herself from Karishma but the latter refuses to listen and says she is being in her limit. Karishma complains for being unnecessarily blamed for getting physical when she was only throwing water on Sonali.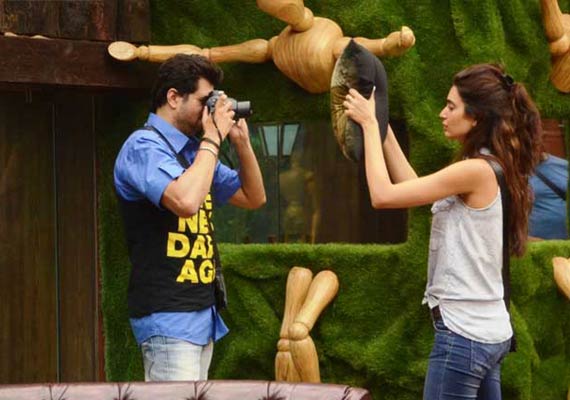 Diandra's counsel and passes nasty remarks at Minissha as she guards the bathroom door to prevent anyone from bothering Sonali and Deepshika.
After much effort, finally with Deepshika's intervention, the Lambas get success in snatching away the mangalsutra and vermillion from the Babbars. Upen and Sonali finish the mangalsutra and vermillion task as well.
But while Pritam tries clicking their picture, Karishma blindly elbows Praneet on his chest, thereby, hurting him severely at his heart.
Praneet falls down hurt on the ground writhing in pain and tells her politely to look around her while doing things.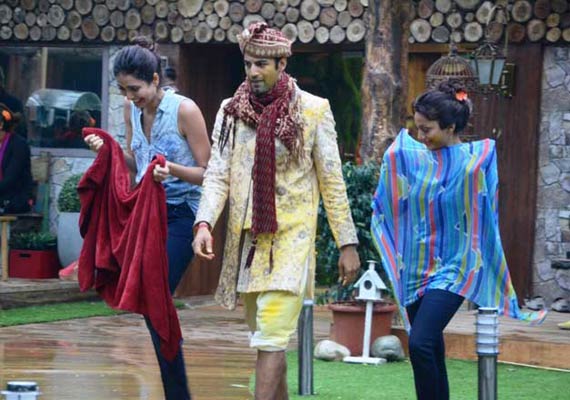 As usual, Karishma shouts and gets defensive to save herself and denies hurting him. And then, says sorry without really being sorry about her act.
Somehow, the Lambas manage to click a few pictures of Sonali and Upen to complete another sub-task.
Inside the bedroom, Karishma, Diandra, Natasa and Puneet bitch about Minissha for switching loyalties after Salman Khan praised Gautam, Pritam and Praneet during the weekend episode.
They allege that Minissha's main agenda behind putting efforts to win the task is her huge appetite as she would get to eat a lot after winning the luxury food budget task.
They even go on to say that Minissha has become good friends with Gautam after he was applauded by everyone during the weekend episodes.
In the evening, BB announces the Lambas as the winner of the luxury budgets task for accomplishing maximum sub-tasks with team effort.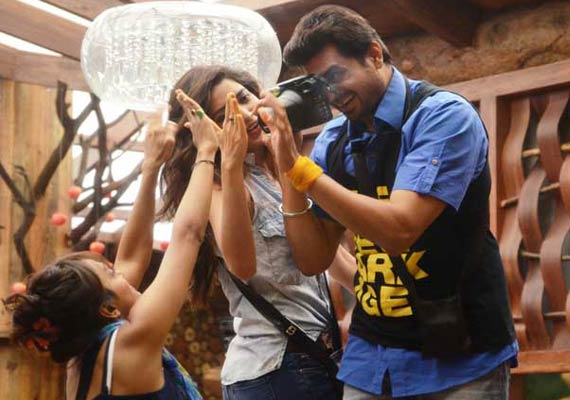 Gautam shares his feelings with Pritam and other men about Karishma's attitude. He says that Karishma appears as a dumb girl who takes delight in hurting others while doing the tasks.
He reasons that is it okay to resort to violence when someone has been hurt etc, but Karishma uses violence intentionally for no valid reason.
He also says that earlier he was sorry for what he said to her during the 'Hijack' task but now he is sorry for being sorry to her.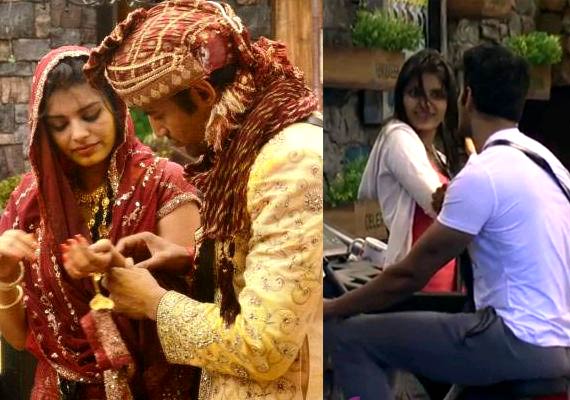 Later we see, Upen working out on a stationary bicycle, and while Sonali having a conversation with him. She talks about the kind of a man she wants to get married to.
Upen looks interested to know about the qualities of her Prince Charming. However, he just flirts with her for fun.
 During the talk, Sonali reveals how bad she felt when Karishma threw water at her during the task. She also goes on to say that Karishma got aggressive and behaved as if she belongs to the slums.
In the coming episode you will find mercury level will raise to its extreme, the girls will go drooling and the guys will feel envious when Hrithik Heartthrob Roshan will walk his way to the Bigg Boss House.
The Greek God of tinsel town, Hrithik Roshan will be entering the living room of the Bigg Boss house to do some Bang – Bang and making the contestants awestruck by his presence!