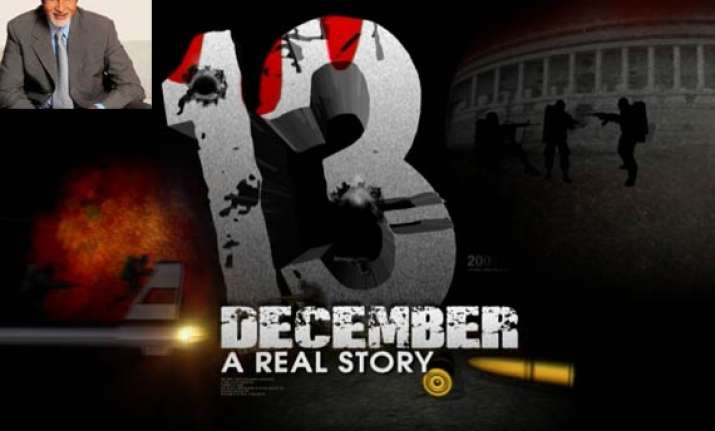 New Delhi, Dec 13: Bollywood megastar Amitabh Bachchan  has given his  voice to stirring lyrics penned by Prasoon Joshi in India TV's docu film '13 December'.

The docu film, based on the terror attack on Parliament on December 13, 2001, traces the planning and execution by terror outfit Jaish-e-Muhammad in collusion with Pakistan's espionage agency ISI.

Prasoon Joshi's lyrics are dedicated to the iron will and strong deterrmination   of Indian securitymen who fought off the attack within a span of 14 minutes. 




The screenplay is based on the deposition made by conspirators before the police and documents and evidences placed before the courts. 
 
 
The film outlines the contours of the plan prepared by Jaish-e-Muhammad, and the execution of the conspiracy by Afzal Guru and five Pakistani terrorists, who were killed in the encounter outside Parliament. 

Under the banner of India TV, Bollywood filmmaker  M G Shastry  has made this film, which has been shot on different locales in Delhi, Jammu, Srinagar and other parts of Kashmir valley. 



A special screening was arranged on Monday evening for parliamentarians and politicians who were present in Parliament on that fateful day.



BJP leaders L K Advani, Ravi Shankar Prasad, Parliamentary Affairs Minister of State Rajiv Shukla, Congress spokesperson Rashid ALvi, Lok Jan Shakti Party chief Ramvilas Paswan, Rastriya Janata Dal chief Lalu Prasad and several other top leaders attended the special screening.

The MPs were in fulsome praise of the docu film, which they said was engrossing.The film will be telecast on Dec 13  (Tuesday) at 9 pm on India TV.