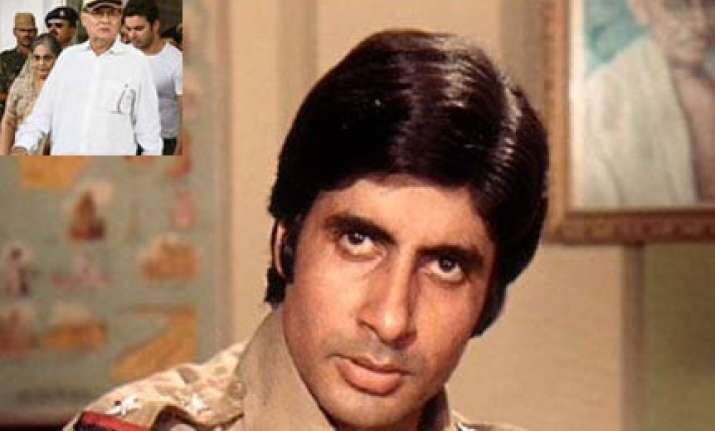 Bollywood superstar Amitabh Bachchan  apologized to the peeved screenwriter Salim Khan, who felt that Big B never acknowledged his 'angry young man' invention, says a media report.
 
The 35-year celebrations of Sholay came with a bitter aftertaste for Amitabh Bachchan when Salim Khan in an interview accused the star of never giving the writer his due. Getting into action pronto the veteran star deemed it important to clarify any miscommunication.
Salim Khan and Javed Akhtar had together written some of the biggest movie of Big B's career charting the course to his stardom.
Salim Khan remarked that the angry young man image of Big B was his creation - figments of which were gathered from his father's career as a policeman. He also remarked that he is willing to sort out differences but the actor does not see anything to sort out at all.
To this Amitabh has responded, "Salim saheb is absolutely right. It was he and Javed saheb who gave me Zanjeer and recommended me to Prakash Mehra and to so many other directors of the time – Manmohan Desai, Yash Chopra, Ramesh Sippy. I have never ever failed to acknowledge this fact. Indeed in the early years of my career, when I was questioned what would happen to me if Salim-Javed were to stop writing for me, I had categorically stated that I would also stop and finish," he says.
"Their contribution has been immense in my film career and I will never stop accepting that. I am extremely sorry if Salim saheb has felt otherwise. I wish to apologise to him and tell him that there has obviously been a miscommunication and that he should never feel that I have thought otherwise. He has been a respected senior for me and shall always remain one," he adds.
Speaking of his legacy, inherited from the Salim-Javed era of filmmaking, and whether the younger generation matched up to his phenomenal success, the Big B added, "Films are not some kind of a kingdom where one looks for a successor. Every artiste is big and important in their own world, especially the younger generation. I have admired them all. They all have their distinct identities and are doing extremely well. No one should be bracketed as wanting to emulate someone. That is wrong. They must be left alone to set their own standards and marks," adds the 67-year-old actor.