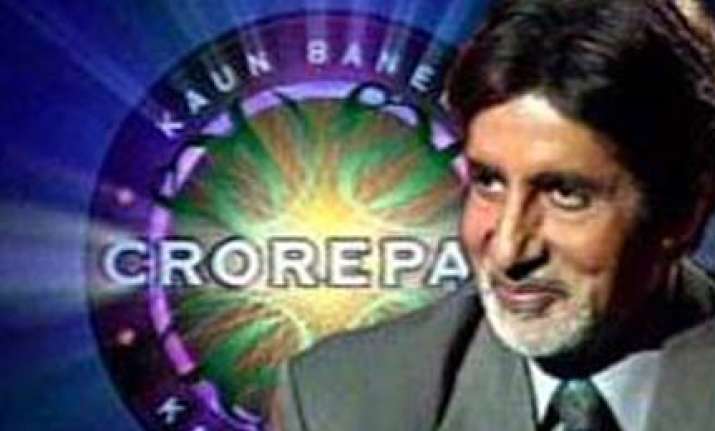 The big news in Indian television is that Amitabh Bachchan is back as the host of Kaun Banega Crorepati, says a media report.
This will be the fourth season of this very popular show which is based on the UK game show Who Wants to Be a Millionaire.
The fourth season will go on air by the end of this year. 
However the broadcast will not be the same. The show will now be aired on a different channel, says a top source from the TV industry.
Kaun Banega Crorepati was Amitabh Bachchan's first appearance on Indian television in 2001. Along with the K(read Ekta Kapoor) serials, KBC skyrocketed Star Plus as India's number one entertainment channel dislodging Zee. There was frenzy among entertainment TV viewers to take part in the question game and the telecom service providers raked in millions.
Big B's mannerisms, his dialogues 'Lock Kiya Jaye' and the overall feel of the Indian version of Who Will Become A Millionaire was widely appreciated by viewers.
In 2005, the show's second season was called Kaun Banega Crorepati Dwitiya in which the final prize amount was doubled to Rs 2 crore. However, the second season was abruptly stopped when Bachchan fell ill in 2006.
Bachchan announced he would return as soon as he recovered, but it was Shah Rukh Khan who finally hosted the show in 2007.
Anil Kapoor was also being considered to play the host in the forthcoming season. However, most well-wishers of the channel insisted that Bachchan should be brought back.
Elaborating on why Bachchan is being brought back to the show, the report says, both Bachchan and Shah Rukh brought their distinct individuality on the table, but frankly speaking, Shah Rukh's histrionics did not do go down well with the audience.
There was a vast difference in the TRPs between the two seasons hosted by Bachchan and the third season hosted by Shah Rukh.
 The hysteria which prevailed during Amitabh's stint in KBC-1 remains unparalleled on Indian television. Dinner time at most homes was changed to either before or after KBC went on air. Mondays to Thursdays, cinema halls reported a slump in night show bookings because most of the viewers were busy watching KBC.
 
Reportedly, a theatre owner in Delhi, who knew Bachchan, had even written to him to change the timing of the show.
An official announcement about the revival of KBC is expected to be made soon.