Follow us on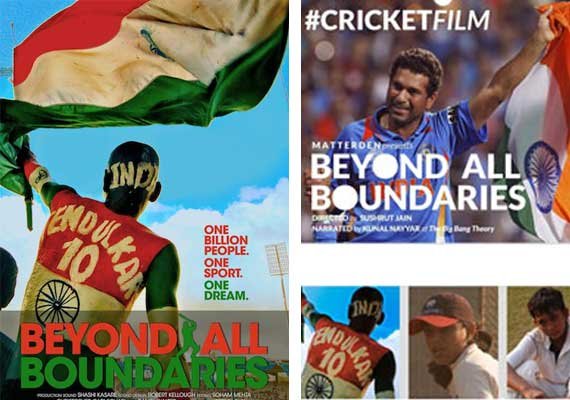 Released under the Enlighten Films banner, director Sushrat Jain's piece of art, "Beyond All Boundaries" captures the euphoria as well as the hysteria that surrounds cricket in India.
Rating: **1/2
Cast: Kunal Nayyar (as narrator)
Director: Sushrat Jain
Against the backdrop of the 2011 Cricket World Cup matches, the film traces the lives of three ardent cricket lovers; the 12-year-old Prithvi Shaw, 18-year-old Akshaya Surve and 30-year-old Sudhir Kumar Gautam, who against all odds are passionate about the game. Coming from humble backgrounds, each one's story displays grit that touches you.
Touted to be in the mould of Sachin Tendulkar, young Prithvi is a prodigy. He hails from a far off suburb of Mumbai and his story speaks about ambitious parents and their goals. In this case, his father pushes him to the boundaries to excel.
Whereas, in Akshaya's case, her goals are self-laden, her story is laced with her personal issues filled with anxiety and fear of rejection. Her circumstances and her ambition are the two ends of the rainbow, which against all odds, she is coping to string together.
But it is Sudhir Kumar Gautam's story that stands out from the rest. An ardent fan, he never played cricket or aspired to be a cricketer and yet, he humbly considers himself to be a cricket 'yogi' or a 'sanyasi', for he claims to have forsaken his life for the game and its heroes.
Hailing from a rural village in Muzaffarpur, Bihar, this wiry lean man is an oft seen face on television during cricket matches. While he travels penniless across the country to catch a glimpse of the matches, he makes a spectacle of himself by adorning his torso and face with the tri-colours of the Indian flag and a turf on the head that replicates the Indian map.
What makes Sudhir's tale interesting is his close proximity to the cricketers. His anecdotes about them touch a raw nerve which without much ado glorifies them further.
But what's interesting is that he has a fan following too! During his journey, he has people who look forward to his arrival and cheer him on his trip. He calls them, "Fans of a Fan". And this craziness is hard to believe.
With the adrenaline-chasing drumbeats, the blowing of the conches and wild enthusiastic dances on the street -- the documentary captures snatches of the excitement after a successful match. But prior to that, the director offers glimpses of the intense hope that lingers on the lips of the fans praying for success, which is hard to miss.
Structurally, the film is more than a documentary. Laced with a voiceover by Kunal Nayyar, a prominent Los Angeles-based television actor who is seen in the sitcom "The Big Bang Theory", the documentary has a definitive narrative arch that consists of the set-up, conflict and a resolution that keeps you hooked.
The script seamlessly meshes the three stories that are accompanied by talking heads like; the former cricket administrator Makarand Waingankar, cricketers Sachin Tendulkar, Yuvraj Singh, Sourav Ganguly, Sahil Kukreja, journalist Ayaz Memon and a local politician, Sanjay Potnis, who give an insight into the mass frenzy.
Visually, cinematographer Jeremy Guy and his crew ably capture the maddening and intense moments with clarity. Some of the shots are really good, especially when Sudhir cycles back home from Kolkata to Bihar, after the World Cup match. The static frames capturing Sudhir cycling against the backdrop of the sunrise and sunset are vibrant. These wide angle shots with sharp and crystal clear audio are worth a mention.
Overall, with editor Soham Mehta's smooth transitions and effective background score by Daniel Walter and Christopher Carmichael, this well-etched documentary is entertaining, but lacks historical value or essence.