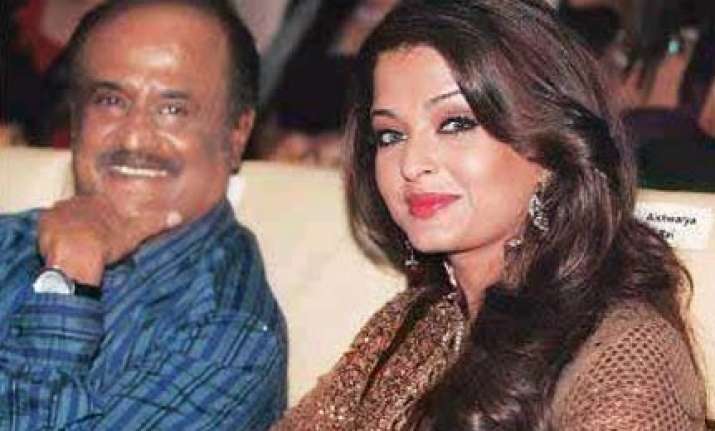 The normally reserved Aishwarya Rai Bachchan stumped all when she threw a fit at Kuala Lumpur International Airport on Saturday, after she failed to locate her favourite bag, reports Mail Today.
Ash had travelled to the Malaysian Capital for the audio launch of Enthiran , her upcoming film with Rajnikanth.
Sources present say Ash arrived at the airport at around 7.30 am from Mumbai and shortly afterwards kicked up a storm when she couldn't locate her favourite white bag. The bag had her make- up kit. Reports suggest that she refused to leave the VIP lounge until her bag was finally delivered to her, two hours later.
The irony of the situation is that the bag wasn't actually lost. It was with one of her minders.
Local media, meanwhile, has gone all out to have a few laughs at Ash's expense. " Funnily enough, despite the stress of ' losing' her bag, the former Miss World looked picture perfect in an all- black designer wear and matching shades," said the Daily Chilli , adding: " Warning: Aishwarya is not good in the morning." That's not all. The Bachchan bahu was reportedly quite annoyed with a starstruck airport ground staff who couldn't stop clicking her pictures. " How many photos of me do they want to take?" she snapped at one of her several minders. In fact, Ash was believed to be in a rush to leave the airport.
The funny thing is Ash's foul mood took a U- turn the moment she spotted a media reporter and photographer in the area.
Malaysian media reports that on spotting the media personnel, Ash immediately put on her mega watt smile ( for the camera) and " showed that she is truly a bona fide beauty queen and the prima donna she's touted to be". Ash, however, refused to speak to the media at the airport.
Later, at the music launch, she was joined by Rajnikanth and composer AR Rahman. The event featured traditional music and dances by Malay, Chinese and Indian artists.
While she is generally known to be reserved in disposition, Ash is not completely new to tantrums. Last year, Ash had apparently refused to share the red carpet at the Cannes film festival with newcomer
Sonam Kapoor
. Then, she reportedly refused to comply with international make- up artists on the sets of Action Replayy and insisted on using her personal make- up man, Ojas Rajani.
Meanwhile, Enthiran apart, Ash has Vipul Shah's Action Replayy and Sanjay Leela Bhansali's Guzaarish coming up.