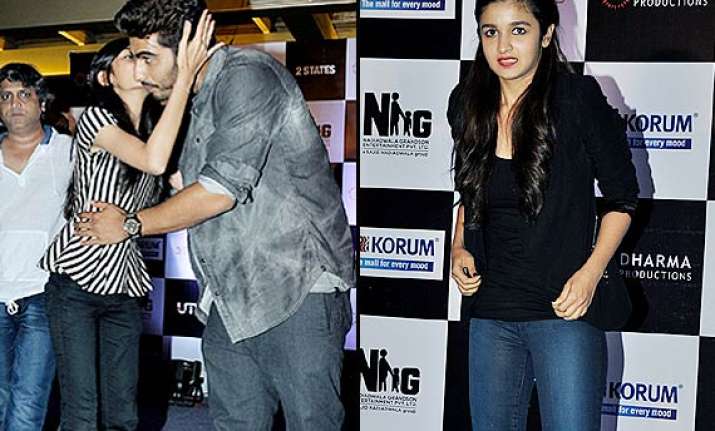 There is Alia Bhatt and then there is Arjun Kapoor, both of them looking stupendously adorable together; now what if some other girl comes in between and debar the mood of this lovely relationship!
Yes, something like this has recently happened at the promotion of '2 States' in Chennai where the intriguing duo arrived to promote the film with their highly enviably chemistry. Alia, who was chirpily dressed up in a black top and blue jeans and Arjun who looked his dapper self in a casual wear, had a chit-chat with fans there.
The duo showed some cozy moves as they grooved to the songs from '2 States' there and indulged in a candid rendezvous with the fans. Everything was going very much fine just before an ardent female fan of Arjun Kapoor came on stage and kissed the actor.
Arjun, who seemed enjoying the moment hold the girl from her waist and let her plant a tight kiss on his cheek.
While Alia remained in shock, she seemed helpless doing nothing to prevent her alleged beau and let the moment passed by.
Both Alia and Arjun, who are garnering raving eye balls for their steamy chemistry in the film are nowadays keeping high everywhere with the promotions of the film.
And while recently, we have seen how cozy does the duo seem at the events, they do not even shy giving statements about each other in public.
'2 States,' which is a celluloid adaptation of Chetan Bhagat's book of the similar name is slated to release on April 18 and is already a hit among audience with its songs and due to Alia-Arjun's magical camaraderie in the film.