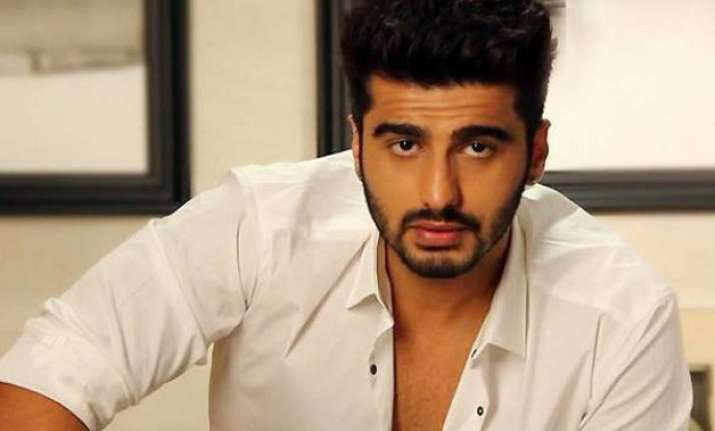 Arjun Kapoor, the amazing actor of Bollywood, just held a question & answer round on Twitter.
The "Gunday" star was bombarded by questions from his fans. He was asked a lot of questions ranging from his favourite football club to his favourite food.
What caught our attention is that Arjun has a lot of nice adjectives to describe B-town celebs. He was asked a lot of questions about his colleagues and he did justice to every word he typed.
We have picked the best answers from this chat in which he praised the silver screen kings and queens.
Q. Describe Salman Khan in one word
A. Fearless


Q. Secret about Varun
A. He loves chicken more than cinema also


Q. Say something about SRK
A. A talented, intelligent and inspiring personality

Q. One word for Sonam Kapoor
A. Innocent


Q. Describe Ranbir in one sentence
A Down to earth


Q. Will you like to share screen with Kriti Sanon?
A. Of course, loved her in Heropanti


Q. Which director are you keen on working with after this?
A. I have always wanted to work with Farhan Akhtar.

And he also gave us insights about his role in R. Balki's next Ki and Ka..
Q. Just wanted to say that I loved your nerdy look in 2 states
A. Then you will enjoy Ki and Ka as well


Q. Sharing screen with Kareena Kapoor for the first time? Nervous?
A. Excited.

Not only this, he also showed why he is so adorable and takes care of his fans.
Q. I did not really sleep in order to get a response from you in the chat, you can not break my heart and respond!
A. Pls get some rest now.


Q. Please don't cut my face in front of all these people please say something nice to me.. say hi please
A. You only want me to say Hi?


Q. I am a fat guy, any motivational words for me bhai?
A. Start your transformation and don't give up, be patient and disciplined.

Well, well the chat session ended soon enough and not all the questions got answered. But ours did.
Is Arjun Kapoor the next ruler of hearts who will take Bollywood by storm?
Yes, definitely.