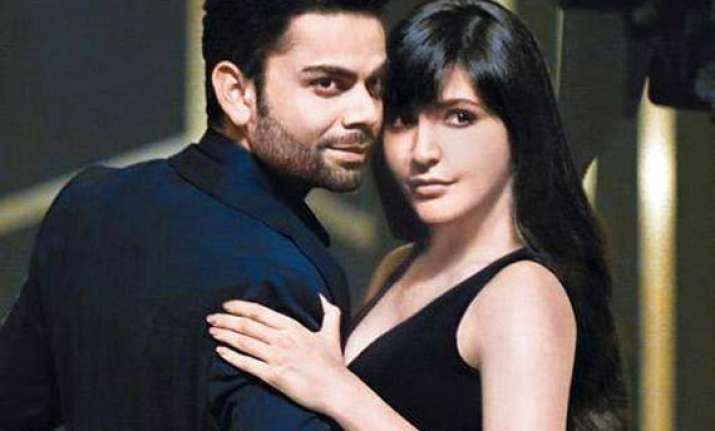 New Delhi: Bollywood beauty Anushka Sharma has slammed the wedding rumours that are doing the rounds since few days, that this leggy lass is soon tying the knot with star cricketer Virat Kohli.
Anushka Sharma seems to put the record straight and tell everyone that they are jumping the gun and she has no plans to get hooked any soon.
Virat Kholi and Anushka Sharma who have always been tight-lipped about their relationship never fail to grab headlines for their love affair.
While rubbishing the wedding rumours, Anushka's manager has released a statement, "There are several stories online about Anushka Sharma's impending wedding however I would like to set the record straight that there is absolutely no truth to these rumours and I would like to request you to refrain from conjecturing about the same."
Just recently BCCI had revealed that they had allowed Anushka Sharma to accompany Vice-captain of Indian Cricket Team, Virat Kholi during the tour of New Zealand on the pretext that they were going to tie the knot soon.
Speaking to a leading daily, a BCCI official said that while there was a bit of a dilemma as to how the touring Indian media would react, the board told the officials travelling with the team that it was just a matter of time before the duo ties the nuptial knot.
"The team management was slightly taken aback when the BCCI approved Kohli's plea of letting Anushka stay with him. But they were told there was no reason to worry as the two were planning to get married. And this isn't the first time such a thing was happening. A captain's girlfriend had traveled with the team in the past as well," he said.
Indian team manager Sunil Dev was also not happy about taking Anushka on the tour. "I doubt whether the secretary even spoke to the interim BCCI President Shivlal Yadav before granting permission. I am sure he would have turned down the request. Anushka stayed with Virat till the third Test. Foreign players do take their girlfriends on tour, but India's culture is different. Indian society doesn't allow girlfriends on tour like this," he said while talking to a leading website.
All we would say is there's no smoke without fire!