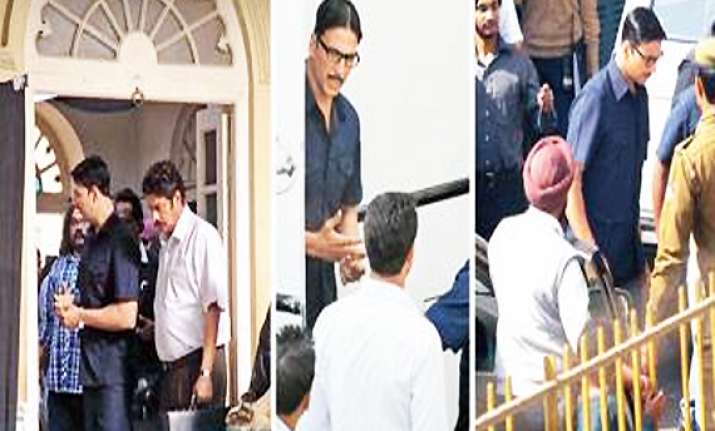 New Delhi, Mar 10: Bollywood star Akshay Kumar was in the capitl during Holi to shoot his film Special Chabbis, based on the infamous Zaveri Bazar jewellery heist of 1987, reports Mumbai Mirror.

Akshay has been sporting a very different look for this film.

In this sequence, Akshay gathers all the 25 men who will work for him.

The first schedule of the film was shot in Chandni Chowk, following which the unit moved to Jama Masjid.

These pictures were taken when Akshay was shooting in a bungalow on Barakhamba Road early in the morning.

The scene revolved around a meeting Akshay's character has with several ministers and CBI officers. The unit was scheduled to shoot at one of the many farm houses in Mehrauli.

The film, directed by Niraj Pandey, is about the infamous jewellery heist of 1987, in which 26 men, posed as CBI officers to wipe clean the many shops of Zaveri Bazaar, in Mumbai.

The film is being shot under an intense security cover, and the storyline too has been kept mostly under wraps.

The film also stars Manoj Bajpai and Jimmy Shergill among others. The unit will now proceed to Chandigarh, for a four-day schedule. The finale, of course, will be shot in Mumbai.

The shoot has a special significance for Akshay, who was born in Delhi's Chandni Chowk.

It was an emotional homecoming for the star, who shared some of his earliest memories of Holi in the colourful neighbourhood with his unit members.

Had it not been for the robust bandobast, it would have been difficult to recognize Akshay with his gelled hair and moustache.