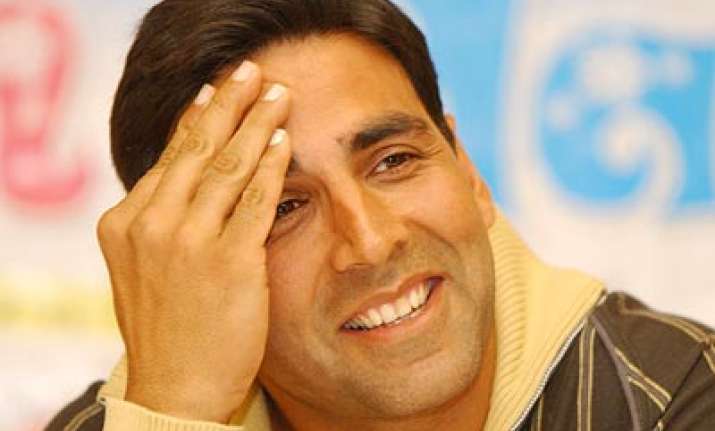 Akshay Kumar is giving dinner diplomacy an entirely new meaning. In Toronto tonight, once the weekend G8 and G20 Summits of world leaders in search of common ground on economics, health, security and other issues are over, the Bollywood Khiladi will take centrestage. And, at the Presidential House in Toronto, Akshay will host a dinner for Canadian Prime Minister Stephen Harper to which the chief celebrant will be Indian Prime Minister Manmohan Singh, reports Times of India.

And Akshay, who is on vacation in New York with wife Tina and son Aarav, has dashed across to Toronto to bring the two Prime Ministers together. Nobody else will be invited though the leaders of all superpowers will be around.

The actor has close ties with Canada. He has extensively shot in that nation and runs a Cancer Ward in the Trillium Hospital of Toronto ever since he lost his father, Hari Om Bhatia, to cancer there. Recently, he was honoured by Canada by being made the torch bearer of the 2010 Vancouver Winter Olympic Games.  

Stephen Harper, who on a visit to India showed his appreciation for the actor's involvement by accepting a dinner invitation extended by Akshay, is now reciprocating the gesture at his official residence. Akshay, naturally, is thrilled.  

"Canada has always been a home away from home for me," he said, "and now to be on Canadian soil sharing the stage and this glorious moment with our revered Prime Minister and the Canadian Prime Minister is a dream come true. Truly a time when I feel proud to be an Indian."
Meanwhile, Canada Tourism Commission has roped in  Akshay Kumar as its ambassador for India.
 The actor also carried the Olympic torch for Canada in Toronto during this year's Olympic Torch Relay.
 "We're thrilled that Akshay Kumar has agreed to be the CTC's Ambassador for India. Having a superstar like Akshay on board to boost Canada's profile within his country will help turn the spotlight on the extra-ordinary experiences that visitors can enjoy here," said Michele McKenzie, president and CEO of the CTC in a statement. .
 Kumar, who has enjoyed a strong relationship with Canada since his first visit in 1995, will act as the CTC's Ambassador for India till summer 2012.
 "I am very honoured and privileged to have been asked to represent the CTC as their Ambassador for India. Canada is my second home and I am truly proud to encourage and promote Canadian tourism in India. I have an extremely strong connection to this great land and its warm people," Akshay said.
In 2009, Indian leisure travellers injected USD 82 million into the Canadian economy. PTI