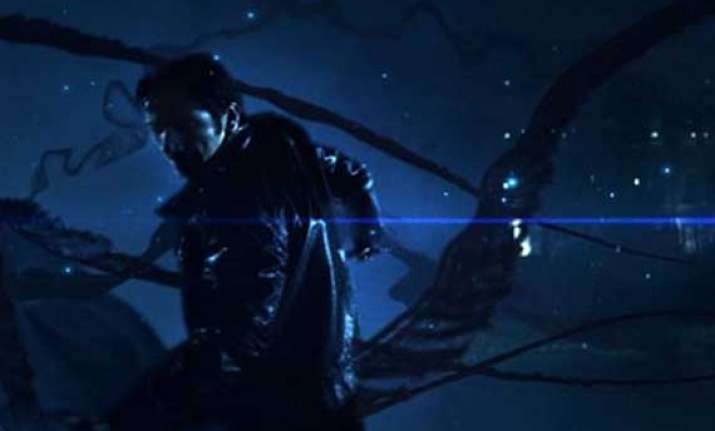 Washington, Sep 16: Indian origin filmmaker Ajmal Zaheer Ahmad's thriller "Jinn" has been picked up by an eminent US studio, to be released in the American market.
Acquired by Freestyle Releasing, the film aims at introducing ancient mythological creatures who have never been seen in US cinemas before and is said to be one of the few films by an Indian American to have been backed by a US studio.
Ahmad is born of immigrants from India, who moved to Pakistan then Britain before coming to America.
Produced by Ahmad and Benjamin Dresser, "Jinn" stars Ray Park ("Star Wars Episode 1: The Phantom Menace"), Faran Tahir ("Iron Man", "Star Trek"), William Atherton ("Die Hard", "Ghostbusters"), Serinda Swan (A&E's "Breakout Kings"), and Dominic Rains ("Flight 93").
A tension filled supernatural thriller from Detroit-based Exxodus Pictures, the film has already created an online buzz with its trailer and related material generating over 2.5 million combined hits.
"Jinn" is also unique in that the hero's vehicle, known as the "Firebreather," was designed by Zaheer Ahmad and is the first vehicle in motion picture history available to the public for purchase.
The "Firebreather" is a V8, 618 horsepower super exotic American muscle car with 50 limited editions being produced as the exact replica of the vehicle in the film.
The car, several of which have already been sold, was designed by Exxodus Pictures to honour the Detroit automotive industry by creating a modern vehicle with the soul of classic American muscle.
"The Exxodus team and I are very excited to be working with Freestyle Releasing on the film, especially with their experience and delivery model. They understand the originality of the Jinn concept and its franchise potential, and will definitely market the concept to North American movie going audiences while retaining its authenticity to people already familiar with the idea," Ahmad said.
"We are happy to be distributing a film that will introduce North American audiences to an entirely new, entirely different supernatural concept, and I know that our team is excited to get this movie out to the public," said Freestyle's Borde.
The release date of "Jinn" has not been decided yet. "It is very rare for an independent desi director to head a big film like this and get picked up by a US studio for release," said Gitesh Pandya of the New York-based BoxOffice Guru.
Freestyle Releasing is responsible for distributing some of the most successful independent films, including "The Illusionist", "The Haunting of Molly Hartley" and "An American Haunting".
Freestyle's recent slate of releases includes the critically-acclaimed Filipino horror-thriller "The Road" from director Yam Laranas, along with "Tomorrow", "When the War Began" directed by Stuart Beattie, which also marked the first feature film to debut digitally on Facebook.
Upcoming theatrical titles for Freestyle include "You May Not Kiss The Bride" starring Katharine McPhee and Rob Schneider.