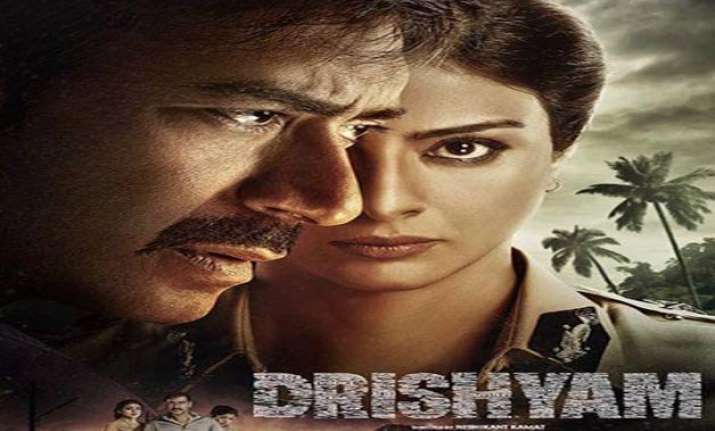 New Delhi: A powerful name and a strong punch line. 'Drishyam – Visuals Can Be Deceptive' is awaiting release. This Ajay Devgn –Tabu – Shriya Saran thriller has raised high hopes of the viewers owing to its unconventional plot.
Here is a rundown of things to expect from this movie:
Storyline that is strong:
Drishyam has two stars to support its box office claim. But unlike the starry movies which are all stars and no substance, Drishyam has a strong script. The story revolves around Vijay Salgaonkar (Ajay Devgn) who lives with his wife Nandini and two daughters in a hilly region of Goa. Vijay and his family get caught in a cob web where a teenage boy goes missing and they are the prime suspects.
With such a powerful and tested storyline (Yes! it's a remake), Drishyam has already caught attention and it is what will be the USP of this movie.  
Mystery that intrigues:
The trailer which was released months ago brought an eerie feel with it. For everyone who has watched the trailer knows that Ajay Devgn as a Std.4th dropout is keeping secrets which doesn't make him as serene as he wants us to believe.
Tabu as IG Meera Deshmukh who is the mother of the missing teenager is inquisitive.
The mystery is intriguing and expectations from it have already sky rocketed.
Powerful Performances that impress:
Childhood friends Tabu and Ajay Devgn or Vishal Devgn as she calls him, will be seen on opposite sides of the table. Devgn as the simple middle class man Vijay Salgaonkar impresses us in the trailer. According to Devgn, the film is relatable as a common man decides to go against the system to protect his family, which is why people will find this movie entertaining.
Tabu, who is known for her strong character roles, plays a cop and a troubled mother whose son is missing. Her portrayal of a no-nonsense police officer, who breaks limits to find out the truth, definitely ups the expectations from this movie.
Seamless Team excelling at their jobs:
Drishyam is directed by Nishikanth Kamath, who is among the few who although having a few movies under their hats has established their credibility. Kamath's Marathi movie 'Dombivali Fast' which was released in 2005 earned him accolades and went on to become the biggest Marathi film of the year.
Drishyam has Gulzar's words brought to magic by Vishal Bhardwaj and the screenplay is written by Upendra Sidhaye who received admiration for his work in 'Mumbai Meri Jaan'.
Recently, Drishyam broke the cliché moves of promoting a movie to create something new. To add to the mystery quotient of this movie, special videos were created for audiences asking the question – Is Vijay Salgaonkar, framed or guilty?
This move has definitely acted in the movie's favour. This highly anticipated movie which will be released on 31st July has a lot to offer and we sincerely hope that the viewers don't come out of the theatres disappointed!