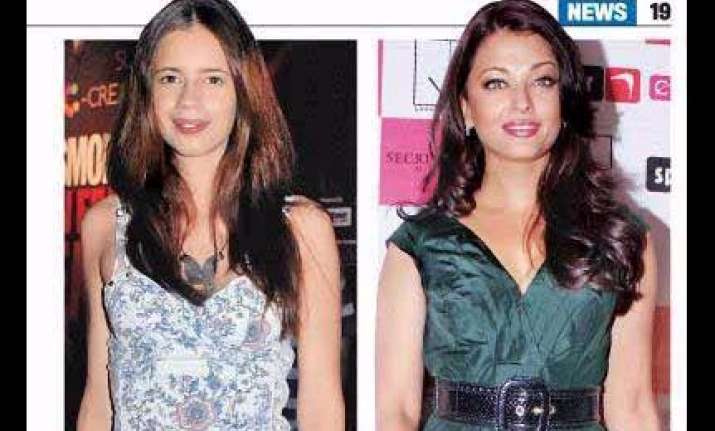 Bollywood star Aishwarya Rai Bachchan lost her thunder to Deepika Padukone at Cannes early this year. But she moved on — from Cannes to Venice.
Here too she is not safe. Kalki Koechlin is likely to give the former beauty queen a stiff competition at the Venice film festival, starting September 1, says a media report.
Ash's Mani Ratnam- directed Raavan is slotted for a festival premiere, while Anurag Kashyap's new film featuring Kalki, That Girl in Yellow Boots , will be screened in the out- of- competition segment.
Kashyap, Kalki's real- life boyfriend, has already taken a jibe at big- budget films such as Raavan . " My achievement is that even if my films are flops, the losses are never much. All my movies put together cost less than 50 per cent of the losses that Raavan and Kites have incurred," he said recently.
While the focus for Bollywood buffs will definitely be on the Ash- Kalki appearances, Raavan director Mani Ratnam will be honoured by the Venice Film Festival with the Jaeger- LeCoultre glory to the filmmaker award. The prestigious award has in the past gone to several celebrated names in world cinema including Takeshi Kitano, Abbas Kiarostami, Agnès Varda and Sylvester Stallone.
"One of the great innovators in contemporary Indian cinema, he ( Mani Ratnam) helped introduce the auteur concept to contemporary Bollywood.
His movies display precision and poise. And they have always been removed from the bombast and bluster of massproduced regional cinema," Venice Film Festival director Marco Mueller stated.
While That Girl In Yellow Boots is yet to open in India, Raavan has already had a poor run in theatres globally and has garnered unflattering reviews. The performances of Ash and her co- star in the film, husband
Abhishek Bachchan
, were heavily panned. And the film, having outlasted its prospects at the box- office, will be telecast on Indian television on Sunday, barely six weeks after its theatrical release.
Coming back to That Girl In Yellow Boots , which Kalki has incidentally co- scripted along with Kashyap, the film will also be screened at the forthcoming Toronto International film festival.
At Toronto, the film will have its North American premiere in the special presentations section.
The film went through several problems related to scripting and funds before completion.
Also, Kashyap has said That Girl in Yellow Boots has been " an emotionally difficult" film. " To make this film, I had to push my moral boundaries. I only did it because Kalki was both the writer and actor of the film. We trusted each other," he said.
The film is a thriller where the protagonist Ruth ( played by Kalki) embarks on a search for her father, a man she hardly knew but cannot forget. She takes up a job at a massage parlour to fund her quest, all the while trying to navigate the underbelly of Mumbai. The film also stars Naseeruddin Shah.
For Kashyap, it will be his second consecutive year at Venice. Last year, his films Dev. D and Gulaal were screened at the festival. Raavan is among 79 films that will have their premieres at the fest.