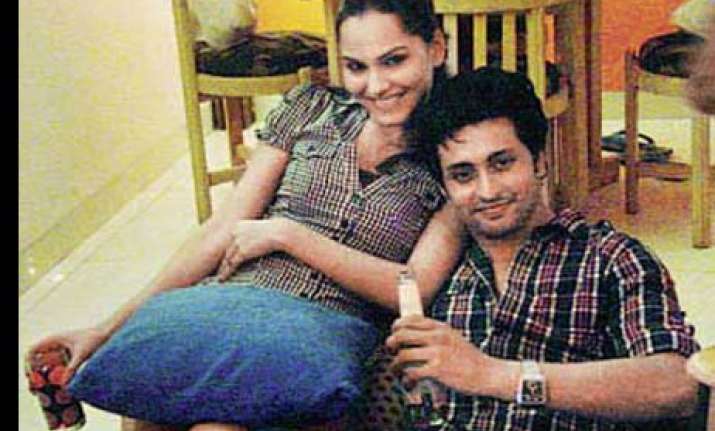 After slapping his companion and dragging her out by her hair, actor Yash Pandit claimed he was merely trying to take her home. The battered model says they were simply very drunk, says a Mumbai Mirror report.
The incident took place at around 2.45 am on Saturday at Aurus restaurant in Juhu. An argument between TV actor Yash Pandit, who also has a few forgettable movies to his name, and his model girlfriend Amruta Mane turned violent to such an extent that the place came to a standstill. 
The restaurant bouncers got involved and cops were called in. But then, in a typical Bollywood style happy ending, the duo kissed and made up.
The drama began after Yash began screaming at Amruta, asking her to leave the place. Onlookers said both of them were heavily drunk, and so were around five of their friends.
After a bout of yelling at each other, Yash slapped Amruta, who screamed back in rage. Abusing incessantly, Yash caught Amruta by the back of her head, twisted her arm and began dragging her out of the restaurant.Eyewitnesses said Amruta too was hurling abuses at Yash on top of her voice and refused to leave.  
In a matter of 15 min-utes, Yash must have slapped Amruta at least 15 times, onlookers said. At this stage, the restaurant bouncers stopped Yash and asked him to leave the place.  
Suddenly, freeing herself from his clutches, Amruta stormed out of the restaurant and sat in autorickshaw. This only enraged Yash further and he began dragging her out of the vehicle, onlookers said.
The fight was now taking place in full public view, on the pavement. An abusive Yash pushing his friends who were trying to pull him away, a hysteric Amruta crying for help. The restaurant minders, worried that the incident could have serious repercussions, tried to persuade Yash to leave, while one of the patrons dialled the cops.
Senior Inspector Madhukar Chaudhary from Santacruz Police Station confirmed his team did reach the spot where the couple were fighting.
He said, "The girl refused to file a complaint. Since it was an internal dispute, we did not pursue the matter but our men did warn the couple to refrain from creating a scene."
On Sunday, Amruta defended Yash and took the entire blame on herself. She said, "My mom wanted me back home as it was well past 2 am. I was drunk and she called Yash, who was only trying to help me." And what about the thrashing? "No thrashing. He just grabbed my arm and later took me home. We are very much together. Yash was just being nice and trying to help me."
Yash said he was not drunk, nor did he hit Amruta. "It was my duty as a man to take her home. Her mother was so worried, I was only trying to help," he said. There were also reports of Amruta getting close to another guy in their group that enraged Yash. Both of them rubbished the claim. "I wasn't getting close to anyone. Yash was supposed to drop me home, we were too drunk. That was it. We have apologised to each other and all's well between us."
Yash Pandit played Johnny in the comedy flick Yeh Kya Ho Raha Hai, released in 2002. His most prominent role was in Sunny Deol starrer Rok Sako To Rok Lo, released in 2004. He played Siddharth in TV serial Ghar Ki Lakshmi Betiyann, aired on Zee TV, and also appeared Kyunki Saas Bhi Kabhi Bahu Thi.
He is currently seen in TV serial Hum Dono Hain Alag Alag on Star One. Amruta has appeared in a few commercials, and is trying to get a foothold in Bollywood.