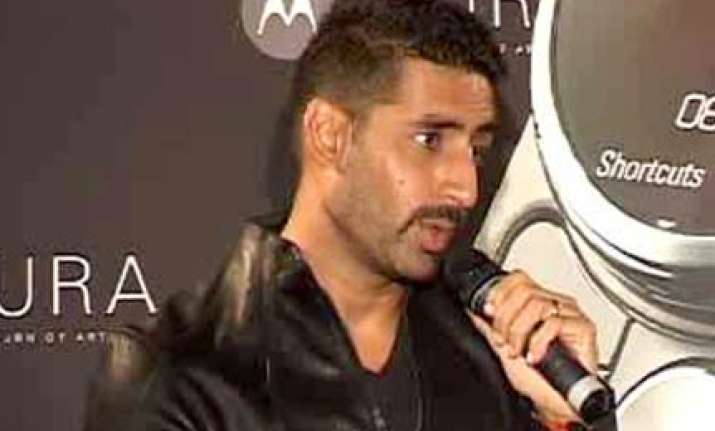 Big B's son Abhishek Bachchan's acting career presently faces a major roadblock due to the unmitigating disaster of his film 'Raavan'.
This film opened to below average houses on Friday, it was mauled by the audience as well as the critics and showed no improvement over the weekend, it was certain that this Mani Ratnam film won't even become a respectable disaster like 'Kites', says a media report. 
 Hrithik Roshan's 'Kites', despite all its negatives and nothing much to write home about, still managed a good first weekend for itself that helped it come closer to the Rs 50 crore mark as the lifetime total.
This means that the film had the ignominy of being the biggest disaster ever with the highest total for a disaster/flop tag. Before 'Kites', the 'position' was held by 'Chandni Chowk to China', 'Delhi 6' and 'Tashan' which were the 'highest grossing flops' ever with a final total managing to cross  Rs 30 crores.
 However, for Abhishek Bachchan, it would be a painful experience to see his 'Raavan' not reaching even the 30 crore mark. If the poor start to the film wasn't enough, the film nosedived over the week.
This meant that the first week stood in the vicinity of  Rs 25 crores. However, it would be challenging for the film to gain even the 5 crores mark if the trends had been any indication. With no takers for the film in the second week as well, the film would wrap up well under 30 crores.
Though the world has held Abhi responsible for the failure of the film, if one thinks objectively it's the character which has failed here, not the actor.
This is the reason why Abhishek can still look forward to the future is because he has some prestigious projects like Ashutosh Gowariker's 'Khelein Hum Jee Jaan Se', Farhan Akhtar-Ritesh Sidhwani's 'Game' and Rohan Sippy's 'Dum Maro Dum' lined up in next nine months. Of course these are crucial months but one hit should change the equation for the actor who has survived for a decade now.