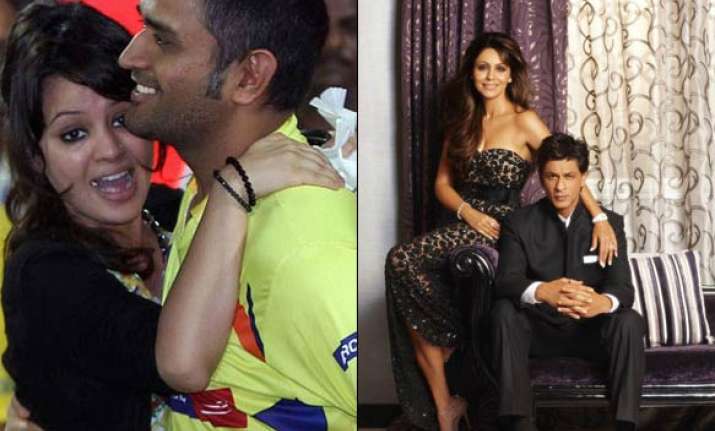 Two can become a money-spinning combination in the world of celebrity endorsements, says a media report. 

Bollywood couples Ajay Devgn-Kajol, John Abraham-Bipasha, Abhishek-Aishwarya and Saif Ali Khan-Kareena have maxed the magic of their off-screen chemistry to promote top brands,raking in the big bucks.


The newest additions to the power list of endorsers includes the senior Bachchans Amitabh and Jaya (a jewellery brand),Shah Rukh and Gauri Khan (a home furnishings brand),cricketer MS Dhoni and wife Sakshi (a bike brand),Twinkle and Akshay Kumar (a cell phone brand) and Sanjay and Manaayata Dutt (a jewellery brand).

The report says, advertisers are in a mad rush to cash in on celeb power and are willingly roping in these couples to endorse brands for astronomical sums.

According to industry experts, it is a matter of convenience and curiosity when it comes to choosing couples to endorse a brand.

Says adman Prahlad Kakkar, Amitabh and Jaya Bachchan have different identities, so their coming together in an ad is justified. Signing somebody like Manaayata,who has no identity of her own other than being Sanjay Dutt's wife,could be because Sanju obliged a client out of friendship. Many times,advertisers get celebrity couples to work together for the price of one, so it's cheaper.

Filmmaker Krishna DK,who directed MS Dhoni and Sakshi for a bike commercial says, "Signing a much-loved couple for an ad increases its curiosity factor. Sakshi is a vibrant personality and a lot of people would like to see her romance an icon like MSD. According to industry estimates,the top three slots for couple endorsements are taken by Saif-Kareena, Abhishek-Aishwarya and the Dhonis.

Says Rajnish Sahay,CEO of a top celebrity management firm, "The success of an ad depends on the strategy of the brand, the tenure of the contract and the premium a star couple might fetch in the market. While couples can strike lucrative deals, there might be times when their split (like John Abraham-Bipasha Basu) can make the entire campaign fall flat. But as long as the real romance brings some added zeros in their pay cheques, these couples will top endorsement lists."