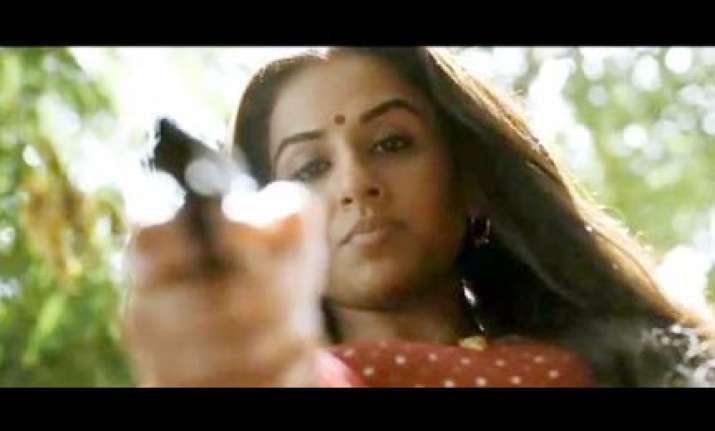 In 'Ishqiya', Vidya Balan seduces with her gaze and then puts a gun to the head of her two lovers. The actor  breaks away from her homely girl image and  says  she thoroughly enjoyed playing the "sexually aggressive" bad girl. 
Balan debuted as the coy Bengali belle Lolita in 'Parineeta' and the image stuck to her, but the actress says that her turn as a conniving, foul-mouthed temptress in the film by debutante director Abhishek Choubey will be a shocker. 
"I know it's going to shock people but I thoroughly enjoyed playing the bad girl in the film. It is the kind of role that I have wanted for a long time and the fact that I was the first choice for it was a surprise for me too. There is a underlined sexual aggressiveness about the character and she speaks her mind," Balan told PTI. 
The film, set in a small hamlet in UP, will see the actress romancing funnyman Arshad Warsi and veteran Naseeruddin Shah who play bandits on the run. 
The 31-year-old actress said that much to her own surprise she slipped into the role quickly, despite the initial apprehensions. 
"There is plenty of abusive language and innuendo in the film but I am an actor who spends a lot of time with the director before shooting begins. So the inhibitions were done away with during the early readings and when the camera rolls the 'sharam' goes out of the window," said the actress. 
While she may be romancing Shah in the Vishal Bhardwaj production, the actress plays mother to megastar Amitabh Bachchan, 63, in her other upcoming project 'Paa'. 
"Initially I just could not believe that it was happening, I am playing mother to Amitabh Bachchan. It was surreal, but then it became addictive because Mr Bachchan is so convincing as the 13-year-old Auro. I could connect with him as Auro's mother," said Balan. 
The actress who was at the receiving end of many barbed comments over her weight, will debut her new svelte self on-screen with the film which releases on December 4. 
"Yes I received plenty of bad comments because of the weight. And I will have to say that no one likes criticism. But I also realised that I myself had become lackadaisical about it and I wanted to push myself. I feel healthier now," said the actress. 
Balan who has often been trashed for her fashion choices in the past returns to an 'ethnic Indian' look in the two films. While in 'Paa' she will be seen wearing her signature anarkali suits and cotton sarees, her look in 'Ishqiya' is a lot less polished but more sensual. 
The actress who refused to budge from her signature style despite the criticism said that she does not equate skin show with style. 
"I did not lose weight to wear revealing clothes. I have a personal style and I do wear western clothes. When not working I am either wearing jeans or track suits. On-screen I wear the clothes that go with my character," said Balan. PTI