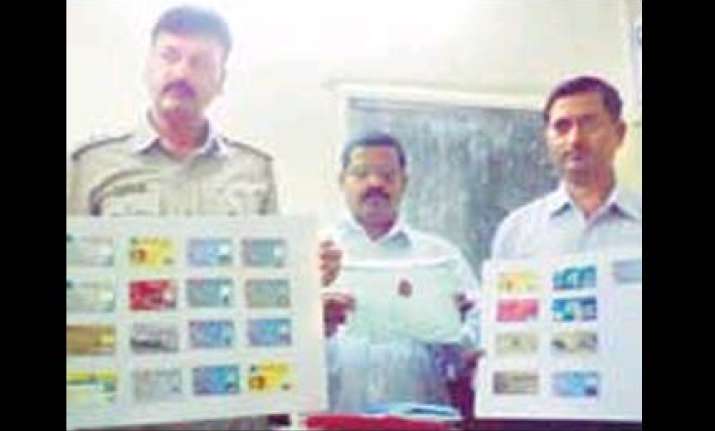 With the arrests of 10 men from Ghatkopar and Dadar, the Pant Nagar police have busted a bank fraud scam that could run into more than Rs 100 crore, reports Mid Day.
What has shocked the police are the 300 fake debit cards, cheques and PAN cards belonging to 100 B-town celebs and some of the city's top businessmen and firms recovered from this gang.  
Investigations of the Pant Nagar police revealed that most of the scamsters are graduates in their late 20s, who have worked in some of the city's renowned private banks. 
"The gang has been operating for more than a year and has robbed small businessmen and companies to the tune of Rs 2.5 crore. But they had bigger plans in place. They have been eyeing Bollywood personalities and some top entrepreneurs for a while," said K M Kasar, assistant police inspector, Pant Nagar police station.  
"We have recovered fake cheque books from them that belonged to some famous actors and a five-star hotel in south Mumbai. This racket would have run into a few hundred crores at least. The gang targetted those from the film industry, as they are casual about their finances." 
The Pant Nagar police have identified one Amjad Khan alias Mac, who has a degree from a Britain-based university and operates from Uttar Pradesh.  According to police, Mac ensures that all the documents are dispatched to Nadeem Pathan, A Mishra and Sarfaraz Khan, their associates in UP who forged them. "While 10 of the scamsters are in our custody including Khan, the others are absconding," said Kasar.    
The police stumbled on what they now say is an inter-state scam when Vilas Khade, an accountant with J K Clothing Pvt Ltd, a Ghatkopar-based subsidiary of one of India's leading garment manufacturers lodged a complaint at the Pant Nagar police station on June 25. According to the complaint, the firm had been duped for Rs 4 lakh.
Khade was shocked when he learnt that there was no balance left in one of the accounts. "I got a call from the bank on June 25 informing me that there was no money in one of the accounts. I was stunned, as I had not issued any cheques for withdrawal. The gang withdrew Rs 48,000 from the account and Rs 3,50,000 from the ATM." The police started working on the case on a war footing after they found that the cheques used to withdraw cash were fake.
After zeroing on the person who withdrew money using the cheque, the police with the help of their informers tracked down the gang members who offered loans.
"Posing as a customer, one police officer availed of the loan. After he handed over his documents to a scamster, who pretended to be a banker, we followed him. We found that the documents were handed over to an attendant working on the train heading for UP," said a police officer, requesting anonymity.
"We kept a close eye on the attendant and nabbed him red-handed at Dadar when he was returning with 100 fake cheques last month. This, then led to the arrest of nine others, one among them is a woman," he added.