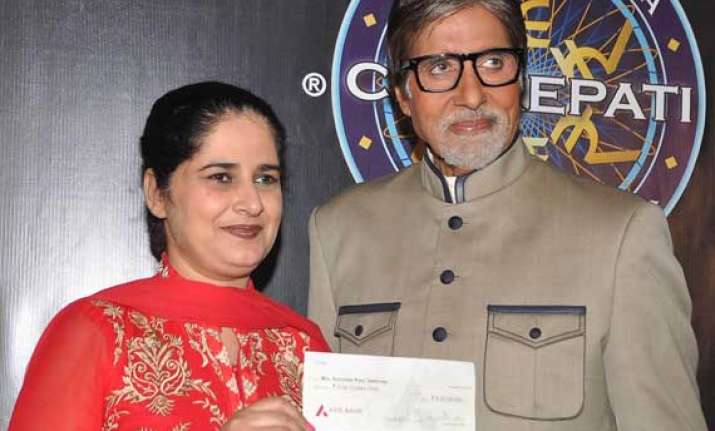 Mumbai, Jan 6: Amitabh Bachchan says Sunmeet Kaur Sawhney, who has won Rs.5 crore in a sixth season game of "Kaun Banega Crorepati" (KBC) and become the first female contestant to take home the mega prize, has proved that women are strong and no less than men.
"Sunmeet Kaur of Mumbai, Maharashtra, a housewife that gave tuitions... was impeccable in the HotSeat. She never hesitated on any question, or did any kind of guesswork. At the Rs.1 crore mark, she had the option of two life lines, but refused them because she said she was somewhat sure of the answer," Amitabh wrote on his blog srbachchan.tumblr.com.
"Sunmeet chose to make quiet celebration, a Bhangra dance with her husband, the very affable Manmeet Singh, who we often see in ads and films...," he added.
A mother of two daughters, Sawhney hails from Chandigarh and has been staying in Mumbai since a few years back now.