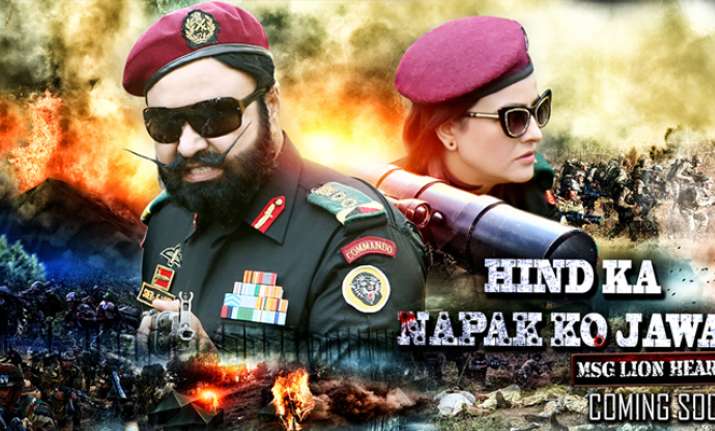 Hind Ka Napak Ko Jawab - MSG Lionheart - 2 trailer is out and its simply out of this world! And I mean it literally. India's self-proclaimed saint Gurmeet Ram Rahim Singh Ji Insan's latest film 'Hind Ka Napak Ko Jawab - MSG Lionheart – 2' is his masterpiece - a film sans logic, bad dialogue delivery and battle scenes that looks straight out of video games from the nineties. 
Having dealt with aliens and their like in his previous outings on the silver screen, MSG strikes a hyper nationalistic tone this time around. His upcoming film, the trailer claims, is 'based on surgical strikes'. 
The film is a fictional retelling of the terror attack on an Indian Army camp and in 2016 and India's revenge, widely referred to as the 'surgical strike', after the language used by the Prime Minister to describe a secret offensive designed to destroy the offending Pakistani military unit. This time, though, the hero is MSG himself.
If you thought the concept was worthy enough for a cringe, brace for more. True to his style, the film is plush with MSGisms – he kind of flies a single-seater helicopter with what clearly appears to be a gaming console, fires guns at will and lectures people on Indian pride as well as respect for daughters. 

    

No wonder, Singh takes credit for 42 different jobs on the project with pride. 
The trailer is four minutes long so brace yourself if you think you can handle it. But, be warned. 
Watch at your own risk.