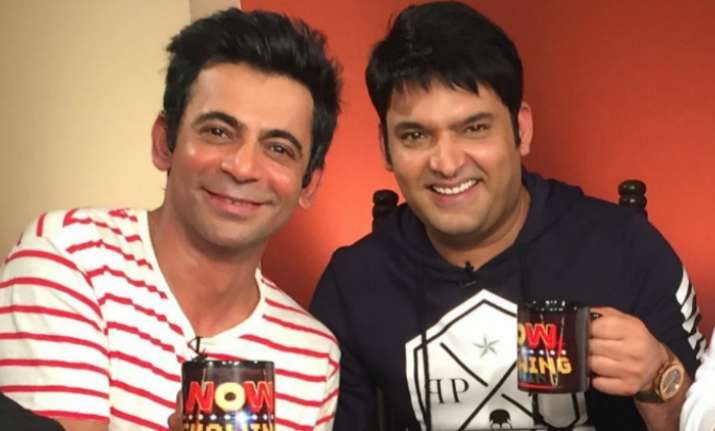 The whole Kapil Sharma and Sunil Grover episode is apparently not going to settle down anytime soon, it seems. In case you're wondering, let us give you a quick summary on what happened. 
Drunk Kapil assaulted his co-star Sunil Grover in an Air India Flight while they were returning from Australia to Mumbai on Thursday night. The fight was so ugly and loud that it caught the attention of most of the co-passengers. 
The news went viral on Sunday. Though the actor cleared his stance with a public Facebook post. Here's what he wrote: 
Hi.. good morning friends .. was celebrating my best time n suddenly I heard a news about me n sunil paji fighting.. first of all see where it is coming from.. what r the intentions behind this.. if I fought with him in the flight then who saw it n informed u.. is he trustworthy..? Some people enjoy these kind of stuff.. we eat together .. we travel together.. I meet my brother once in a year.. n spending almost everyday with my team.. specially sunil .. I love him.. I respect him.. yes I had a argue with him.but r we not normal people..?I shouted at him first time in 5 years .. itna to chalta hai bhai. we will sit n talk that where is the problem.. I love him as a artist as a human being.. he is like my elder brother.. why so much negativity all the time.. I respect our media.. there r some other serious issues which we need to focus. Is me n sunil's issue is so important n realted with the security of my country ..? We spend a lot of time together rather then our families .. n sometime it happens in family.. its our family matter.. we will sort this out.. zyada maze mat liya karoo. OK now m tired typing .. n one more thing.. I m going for the final schedule of Firangi. Hahahahaha.. sorry again promotion.. thank u so much for ur love n blessings... keep smiling n stay happy always :)) love u all
While most of the fans are busy taking sides, not a single soul has noticed this weird pattern of Kapil Sharma's tweet.
Kapil Sharma's announcement about his girlfriend on Twitter on Saturday, has a strange but a tactful timing. 
It seems like the actor already knew that his brawl with co-star Sunil Grover will eventually come out in media. So, he strategically planned his love announcement.
He already had his ugly episode with 'Dr. Mashoor Gulati' on Thursday and he tried to deflect all the negative attention with his mushy love announcement a few days later.
As if the ace-comedian has had it in his mind, that one positive news about him will nullify the negative one
But the well-planned tweet failed to do the wonders. The news went viral on internet and hell broke loose like a wild fire. 
With more and more fans coming to take sides with Sunil Grover, Kapil's calculations stands like a complete failure.
However, Kapil Sharma apologised publicly to Sunil Grover by posting a tweet, but all in vain. The damage has already been done. 
Paji @WhoSunilGrover sry if I hurt u unintentionally.u knw vry well how much I luv u. M also upset .love n regards always:)

— KAPIL (@KapilSharmaK9) March 20, 2017
The complete truth is still unknown by us. But the high probability of the announcement being strategic cannot be overlooked. If the his 'Love Tweet; was premeditated, then we must say it was a wonderful PR planning. 
But, Kapil has just undermined the popularity of his fellow comedian Sunil Grover. The surprising number of Pro-Gutthi supporters made it evident this well-drawn twitter timeline failed drastically.
One thing is for sure, this whole Kapil-Sunil fiasco is making the actor lose a big time as a comedian and a popular public face. Kapil might be famous for his amazing comic skills, but his problematic behaviour after getting high is giving a tough time to his colleague. 
Another facade uncovered by this mid-air ruckus is, Kapil Sharma is not able to handle too much fame. A question lingers on our mind, has the success gone to his head? 
Let's hope the 'beloved' stand-up comedian mends his ways before it's too late!