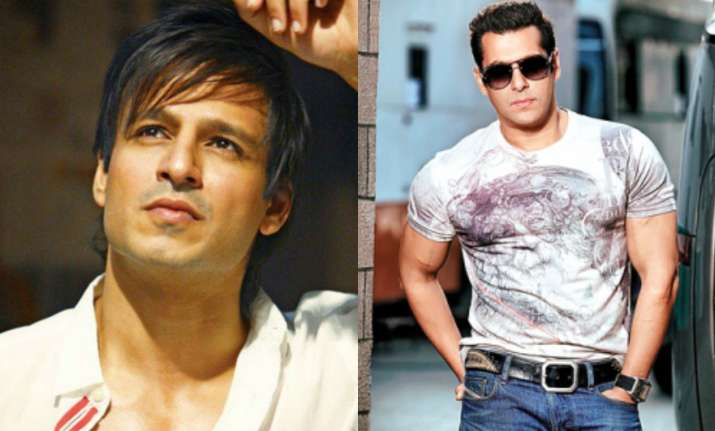 Vivek Oberoi who was deserted by the film industry post scuffle with Salman Khan and also for his wrong choices of films has made a comeback with Vivegam and Inside Edge. His negative characters in web series Inside Edge and Ajith starrer Tamil movie Vivegam which emerged to be a blockbuster has brought him back to the glitzy platform. He found solcae in philanthropy during stagnation in his Bollywood career. His project DEVI (Development and Empowerment of Vrindavan Girls' Initiative) has earned him spot in Forbes' Top 40 philanthropists under 40. The actor believes that his marriage with Priyanka Alva was a turning point in his life. The actor who bagged two Filmfare Awards for his debut movie Company gradually vanished from the media limelight and his charm evaporated. From delivering consecutive flops to rejecting movies which went on to become hit and his infamous spat with Salman, Vivek bares it all in a recent interview to Mumbai Mirror.
Tussle with Salman Khan
Who doesn't remember the ugly spat between Salman Khan and Vivek Oberoi? The actor who was dating Aishwarya Rai Bachchan back in 2003 addressed a press conference and accused Salman of hurling expletives and threatening him in inebriated state. This single press meet brought Vivek's rising career to a halt. He says that he was treated like ''the guy nobody was supposed to work with''. ''It was like a fatwa was issued against me from the powers that be,'' Vivek says.
Wrong choices of movies
Whether it was Naksha, Fool n Final, Kurbaan, Prince or Rakht Charitra none of his movies were minting money at the box office. ''When my personal life got messed up, I couldn't keep my eye on the ball,'' he recalls that ''difficult phase''. ''Even if I gave a hit, work wouldn't follow. Shootout at Lokhandwala became a huge hit, but I sat at home for a year after that,'' said Vivek. On a philiosohical note, he says, ''Everything is personal, be it success or failure. People can be supportive but at the end of the day, the fight is yours. If you break down, the game is over.''
Rejecting 'good' films
There were rumours in industry that Oberoi rejected Hum Tum, Bunty Aur Babli and Om Shanti Om which went to become a hit, on which the actor says that Bunty Aur Babli was never offered to him. ''Hum Tum was offered to me on the exact same day that I was supposed to begin shooting for Kisna, which was delayed since I had an accident during Yuva. Some things were just not meant to be,'' he says. While he rejected Om Shanti Om because he didn't want to be repetitive by playing a negative character again.
Comeback
Oberoi is tasting success after a long time. He is playing a character of cruel owner of a sports management company in Inside Edge. He takes the pride in becoming ''the first mainstream actor to jump into the medium.'' Talking about his character he says he had to be "measured and deliberate with his body language" and was required to introduce "pauses at odd points in dialogue". "The idea was to be so confusing that one feels uncomfortable around him. When Karan Anshuman (the creator of the show) narrated the character to me, he was worried it was too dark. But I told him my only reservation was that it wasn't dark enough.''
He calls him Tamil blockbuster Vivegam which has collected Rs 200 crore as a ''gratifying'' and ''challenging'' project. ''I had to speak in a language I didn't understand and yet be convincing,'' says Oberoi.