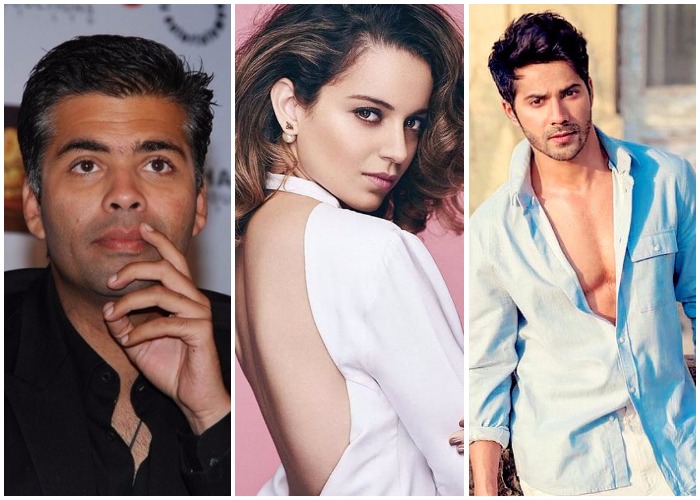 Kangana Ranaut who was once ridiculed by trio Varun Dhawan, Karan Johar and Saif Ali Khan at IIFA Awards for her months-old nepotism remark, is now backed by none other than Dhawan himself. Judwaa 2 actor, Varun Dhawan now makes sense of the remarks the actress made on the film industry. Though he apologised for the public humiliation at IIFA, nobody expected Varun to take such a U-turn in his viewpoint on the matter. At Jagran Film Festival, the Badlapur-actor backed what Kangana Ranaut said in her Koffee With Karan episode. 
Varun Dhawan said, "To a fair extent what she (Kangana Ranuat) is trying to say is right."
"I think this whole matter was blown up. She was just trying to get a point across but people really stretched it way too much. Such things happen, we're in a fraternity," the actor added.
The actor even backed Kangana's remark on Karan Johar that the filmmaker is the flagbearer of nepotism. He said to some extent, the actress was right in her accusations. Citing that Karan Johar only launched star kids, Kangana's accusations weren't wrong at a point. 
Speaking about Kangana's accusation that the filmmaker has only launched star kids, the ' Judwaa 2' star said, "Who all has he launched by now? Only star kids' right? Then it's not an accusation, it's the truth..."
He further pointed out, "Karan had also launched a lot of directors like Shashank Khaitan, who is a close friend of mine. He is from Nashik and has nothing to do with the film industry. He gave the script to Karan and he liked it. And Karan said he believes in his work and they made a film together."
At the same time, Badrinath Ki Dulhania actor emphasized that Karan Johar also launched people who are not from the film industry. He launched a girl in the movie 'Gippy' and also Sidharth Malhotra, who was outsider for the industry. 
The nepotism row started when Kangana Ranaut and her Rangoon co-star Saif Ali Khan appeared on popular talk show Koffee With Karan hosted by Karan Johar himself. During the question and answers, Kangana fiercely accused Karan of nepotism and for promoting only star kids. She also labelled the filmmaker a 'Movie Mafia'. The debate grew intense when Karan Johar in one of his statements asked Kangana to leave the industry if she had so many problems with it.