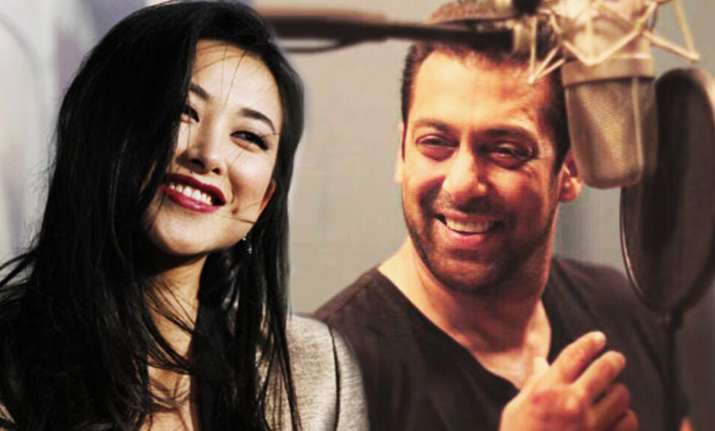 Salman Khan's much awaited Kabir Khan directorial Tubelight featuring Chinese actress Zhu Zhu and child artist Matin Rey Tangu, has finally hit the silver screen today. Like Bajrangi Bhaijaan and Sultan, Salman is once again seen portraying a different and unique character named Laxman Bisht. 
Fans worldwide are just praising Salman's natural innocence and cuteness, which he has portrayed in Tubelight. 
Tubelight is a film set in the backdrop of India-China war. Director Kabir khan also received much applaud of fans for the perfect story plot. Praising Kabir, actress Neha Dhupia said that only he can make such a twisted and tough story plot look so easy and smooth.
Salman while giving some sneak peak about his film said that Tubelight will make you cry and laugh equally. Yesterday, Salman also shared Matin Rey's audition video for Tubelight, on his microblogging site Twitter. Matin's cuteness and Hindi accent is too cute to charm fans worldwide.
Celebrities Tweet Review
Matin Rey's Audition . pic.twitter.com/J4BkZlxMXh

— Salman Khan (@BeingSalmanKhan) June 22, 2017
Finally the day's arrived #TubelightDay @TubelightKiEid @BeingSalmanKhan Hume yakeen hai kal subah apse mulaqat hoGi.. pic.twitter.com/9BbBUZAnGM

— Dr.Vivek Kumar Nayak (@BeingSKhanFan) June 22, 2017
Chinese star Zhu Zhu also received much appreciation of fans. Fans called Zhu Zhu a perfect cast for the role. She was appreciated for her flawless performance in the film. 
@TubelightKiEid Salman's innocence is just amazing so natural and so cute.. again a diff character and acting loved him @BeingSalmanKhan 😍

— archana shah (@archushah1709) June 23, 2017
How does @kabirkhankk make such hard films look so easy!Touching & thought provoking @BeingSalmanKhan @minimathur #Tubelight #correctedtweet

— Neha Dhupia (@NehaDhupia) June 22, 2017
Karan Johar @karanjohar tweeted, "Wishing @BeingSalmanKhan #SKF @kabirkhankk all the luck and love for tomorrow!! Can't wait to see it tomorrow morning!!! #Tubelight"
Sara Ali Khan @SaraKhanWorld tweeted, "What I loved about #Tubelight is its simplicity, it will touch your soul. The acting, music and story is heart touching! @TubelightKiEid"
Maniesh Paul @ManishPaul03 tweeted, "Saw #Tubelight..awesome movie @BeingSalmanKhan at his cutest best..@kabirkhankk u hv done it yet again!!!loved it...all d best to d team!!"
Armaan Malik @ArmaanMalik22 tweeted, "Watching #Tubelight! ?? @BeingSalmanKhan @SohailKhan @Zhuzhu_juju & Late #OmPuri ji .. truly heartwarming performances by all"
Sooraj Pancholi @soorajpancholi9 tweeted, "#Tubelight a must watch! I really wish I had a brother after watching this @kabirkhankk @BeingSalmanKhan @SohailKhan @Zhuzhu_juju"
Kiara Alia Advani @Advani_Kiara tweeted, "Faith can move mountains! Congratulations @BeingSalmanKhan Sir @kabirkhankk Sir, @SohailKhan & the entire team of #tubelight for this gem!"