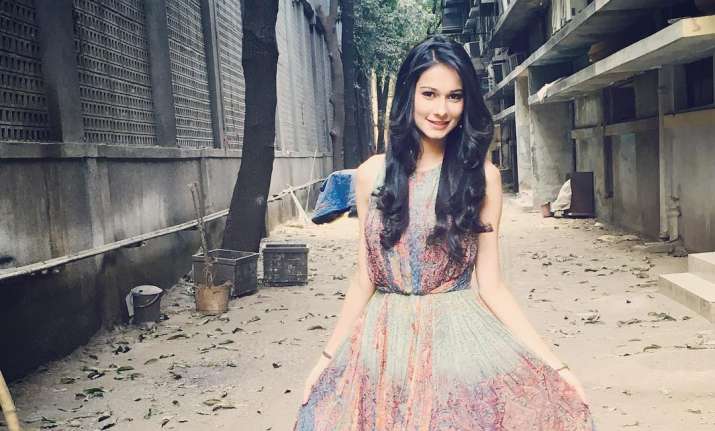 Aneri Vajani aka Saanjh from Beyadh, is extremely active on social media. Right from getting a new hairdo to celebrating Father's Day, the TV actress shares everything with her fans. However, a recent picture of the actress wearing lingerie is going viral for all the wrong reasons. Aneri shared the photo in her social media ahead of the International Yoga Day (June 21).  While she wished her fans a happy yoga day, it was her never-seen-before avatar that created buzz. 
Also Read: Divyanka Tripathi hits back at trolls for rumours 'fixing' Nach Baliye 8
Taking to her official Instagram account, the 22-year-old telly actress posted a photo of herself donning a pink bra and a yellow underwear. "When You Own Your Breath NoBody Steals Your Peace! Happy Yoya Day! :) #yoga day!", she captioned the image.
No sooner did the picture hit the internet, comments started to flow from each and every corner. Aneri Vajani was body- shamed for being "too thin to live". "i think this is not yoga day.its malnutrition day", slammed a user. "you look anorexic in this pic!", said another. Check out some really mean comments.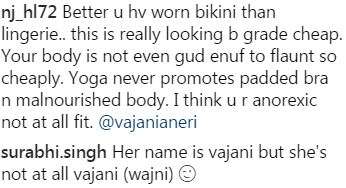 Aneri Vajani

Aneri Vajani trolled

Aneri trolls
However, few people came in full support of the actress. "we love u and ur acting.All ds negative trolls cnf affect on ur fame so go dear go reach ur dreams.Instead listen ds bullshit cheap thoughts of all cheapos. We loves you and we will", said a fan.
In an interview Aneri revealed that she is not too keen on the "saas-bahu type of roles". She says, "I might play a bahu eventually, one should never say never, but for now, I want to play the role of an independent girl, who wants to live life on her terms. I am only 22, so no saas-bahu or bechari-type roles for now. My new show will showcase that I can play a tomboy and a regular girl with equal aplomb."